A student's guide to the State of the Union
Hang on for a minute...we're trying to find some more stories you might like.
On February 5th, President Trump gave his State of the Union address, which was one week later than planned due to the partial government shutdown. The yearly address to the nation received mixed reviews in various attempts of encouraging bipartisanship. Listed below are important topics to guide students through this year's address.
The Date
This year's State of the Union was pushed back due to back and forth discussion between President Trump and House of Representatives majority leader, speaker Nancy Pelosi. The delay was due to both the partial government shutdown and disagreement between the president and democratic leadership about a solution to border security and a decision on the wall. After agreeing to hold off on the State of the Union, President Trump accepted Pelosi's invitation to attend the House when the government was fully operating.
The White
Looking out onto the House floor, many women were dressed in white. This choice was recommended by the House Democratic Working Group in order to honor women's suffrage and in solidarity of women. White was also a color worn by women in the address in 2017 during movement's such as #MeToo.
The Up and Down
During the State of the Union address, there is usually a split of the members of Congress who stand up after every large point to applaud the President, and those who remain seated. This is a recurrence every year, no matter the political affiliation of the president. These moments are where you can infer party affiliation. Of course, there are moments where applause is seen "across the aisle", or from both parties, but the majority of the time the standing is due to respect to specific party views and topics.
President Trump's speech stayed true to his party but also hinted at strides of bipartisanship. He called upon Congress to stop "ridiculous partisan investigations". Though Trump did not specify in the speech, he could be pointing towards investigations such as Mueller and collusion with Russia in the 2016 election. Some see the address as a very "political" thing, where only those who are politically active tune in to, but senior Angela Pandit stresses the importance of watching the address. "As the younger generation of our world, it's important to be informed on different issues and see how our country is handling them, and watching the State of the Union is one way to do that." 
About the Contributor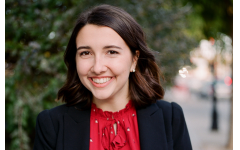 Natalie Murphy, News Editor
Hello! I'm a senior at PVHS this year. Some of my favorite things to do are help lead Spartan Assembly and our NHS chapter, sing in the Leading Tones...