Inching Closer to Global Olympiads
Hang on for a minute...we're trying to find some more stories you might like.
In March, two Pleasant Valley students qualified for the second round of two world-wide academic competitions. Aditya Desai, a junior, progressed to the American Invitational Mathematics Competition (AIMC), and Sujay Marisetty, a senior, progressed to the semifinal of the USA Biology Olympiad (USABO).
Aditya Desai was the only junior from PV to qualify for the second stage of the American Mathematics Competition. Each stage is meant to provide a very tough challenge for the participants; making it beyond each level is considered a commendable achievement.
The American Mathematics Competition (AMC) is a nationwide competition to locate the most elite high school mathematicians. For the competition, the students must first take either the AMC 10 or AMC 12 exam‒a 25-question test administered over 75 minutes. Students get rewarded for correct answers and penalized for guessing wrong ones, which makes preparation for the test critical.
Desai thinks that the competition and tests have been a valuable experience for him. "These tests go beyond what most students learn in school," he said. "I hope to improve not only my mathematical problem-solving ability, but also my general problem-solving and critical thinking ability."
The second round of the competition involves the American Invitational Mathematics Examination (AIME). If students progress from this level of the test, they move on to the final stage, the USA Mathematical Olympiad (USAMO). This is a 9 hour proof-based exam, and if students progress beyond this level of competition, they qualify to represent the United States in the International Math Olympiad.
The USA Biology Olympiad operates in a similar fashion to the Mathematics variant. As students progress through the various stages, the tests become more and more difficult. In the end, the best students remain; they compete internationally in the world-wide Biology Olympiad.
These competitions extend beyond the subject matter that students are taught in school. They require extensive work outside of regular classes, which is an important aspect of the competition. "The process of preparing for this competition made me realize that there's a lot more to biology that I don't know," Marisetty said.
Desai and Marisetty are the only students from PV to move on from the first round of their respective competitions, and their path through them is just getting started. If their efforts pay off, they will not only represent both their school and nation on a global level. For Marisetty, the anticipation has made him "all the more excited to keep learning."
About the Contributor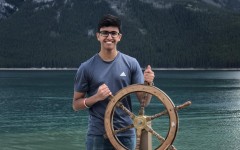 Rishab Verma, Photo Manager
My name is Rishab Verma. I am a senior this year and am already getting a little sad that graduation is nearing. Pleasant Valley is my favorite place on...