PV athletes recognized at Senior Athletic Ceremony
Hang on for a minute...we're trying to find some more stories you might like.
An awards ceremony for senior athletes was held on Wednesday, May 1, to recognize every student who participated in a sport during their senior year.
Every year, students are chosen to speak at the beginning of the ceremony about their respective sports and what they have taken away from their experiences in them.
This year, three students continuing their athletics on to college spoke: Evan Kilstrom, a football player going to Iowa State University, Spencer Clark, a swimmer going to Grinnell College, and Abby Riley, a runner going to the University of Northern Iowa.
Special plaques were given to students with a minimum of four years of participation in at least three different sports. Six seniors received these: Adrea Arthofer, Cade Collier, Carli Spelhaug, Cory LaBarge, Ely Adams, and Mallory Lafever.
Adams shared his thoughts on receiving this award. "I thought it was cool the school recognized people who wanted to be involved in multiple athletics. Doing at least three seasons of high school sports every year takes up a lot of time, but every second was worth it," he said.
The Iowa High School Athletic Association annually gives the Bernie Saggau Award to the two athletes they think resemble great leadership and sportsmanship on their teams. This year, those students were Anna Griffin and Evan Kilstrom.
"I honestly didn't think I would get it because of all the great athletes that had been nominated for it, so when I won it, I was really honored," Griffin said about receiving the award. She continued by explaining what winning this award meant to her. "I've always tried to be a good role model for younger athletes and it's great to know that I can show them how to have good sportsmanship and that there is more to a sport than just talent."
The E. Wayne Cooley Award was given by the Iowa High School Girls Athletic Union to Adrea Arthofer. This recipient of this award is chosen based on their good character and positive influences to their team.
To conclude the evening, both the Male and Female Athletes of the Year, Max Slavens and Carli Spelhaug, were announced. Slavens was on the football and baseball teams at PVHS, and will be continuing his baseball career at Western Illinois University. Spelhaug was on the basketball, softball, and track and field teams, and will continue her softball career at Iowa State University.
Every senior athlete received a specialized plaque for participating in a sport, a token of appreciation for the time and effort put in to competing for the school. Pleasant Valley High School strives in the hope that students are committed to excellence, in not just some things, but in all things they do.
About the Photographer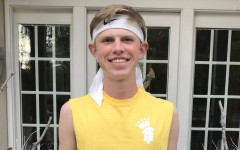 Alexander Haack, Arts and Entertainment Editor
My name is Alexander Haack, and I am the Arts and Entertainment Editor for the Spartan Shield Online. I am a senior and will be attending Iowa State University...