Long awaited state success
Representing your school at a state athletic event is something every program dreams to do. For some it comes easily, for others it takes years and years of hard work, strong team leadership and rebuilding. This past summer, the boys baseball team had its first state birth since 2003: a remarkable accomplishment that few PV baseball teams have been able to do. 
Their previous season ended with a gut-wrenching first round regional loss. This loss turned into motivation for the coming season. Senior pitcher and third baseman, Jack Young, said their season goal was, "short and simple… win state." It is easy to look at parts of the sport as individually focused, but team leadership is everything. After losing a talented senior class, this next class in line had to rise to the challenge. Barrett Lindmark spent his first season with the team as a reliable pitcher and shortstop. "The leadership this past season was amazing," he said, "As a freshman, the older kids took me under their wing and were great leaders." Young commented, "We had unreal senior leadership, they really pushed everyone and raised expectations for us." 
With every bit of success comes some bumps in the road. With Iowa's baseball season being in the middle of the summer when most are laying by the pool, it can sometimes make it difficult to pull together a fully focused and dedicated team. Young mentioned, "Towards the end of the season we had some kids quit and that put a little damper on the team's motivation." Injuries are always a problem in any sport. Graduating senior and second baseman, Peyton Lindmark, suffered a shoulder injury resulting in surgery early on in the season.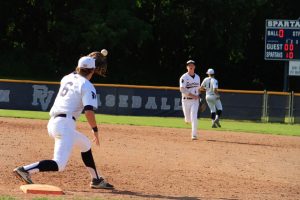 Although the team didn't come home with any hardware this time around, this small, but significant step should definitely not go unnoticed. The accomplishment of getting to Principal Park shows the program is moving in the right direction. "It also motivates us even more because we know that bitter taste of defeat when you've made it so far," said Young. Lindmark mentioned "We realize what this program is capable of and trying to make it the norm."
Heading into this next season with continued strong senior leadership, the same team goal remains. "Obviously everyone's goal is to win a state title," said Young, "but I think it is also important for us to develop our program starting at the bottom so we can set up to have a successful future as well."