Seniors row their way to Tokyo
Hang on for a minute...we're trying to find some more stories you might like.
After years of success in local regattas, seniors Taylor English, Brenna Morley and Delaney Evans got to experience their love for rowing on an international level as they made their way to the World Rowing Junior Championships held in Tokyo, Japan.
Their passion grew as they started participating with the Y Quad Cities Junior Rowing Team in eighth grade. This team has not only participated in such an extraordinary sport, but have also set world records together. Sharing a passion as a team has created many bonds and lasting friendships for these three girls. English said, "Training together for many hours every week has made us all really close."
Although there was a lot of excitement, the nerves still kicked in for the three; competing on an international level was a completely new experience. Taking part in a competition in another country is guaranteed to come with challenges. English states, "The level of competition in Tokyo was much higher because we had to compete with the best athletes and some of the fastest rowers in the world."
However, the level of competition did not stop them from receiving outstanding results. Evans and English finished 9th in the double sculls, while Morley and her three boatmates placed 12th in the quadruple sculls. This experience has brought a great feeling of pride, not only to the girls, but also to their coaches, team and families. 
The journey doesn't stop here, however. These three are just getting started with their future and it is evident that it holds great promise. Local practices will still be a part of their mornings throughout the year. They have also decided to continue their passion at major universities, possibly taking part in more international regattas in the future. 
"Personally, I want to compete internationally again. Making the World Junior Championships is a big commitment, but it is worth traveling the world to compete against other young talented athletes," Evans said. 
Traveling to pursue a dream is one thing, but reflecting on the successes is a better feeling. Morley said, "Racing internationally has taught me many skills that I will be able to use in the future to improve myself as a rower and to improve myself as an athlete overall." 
About the Contributors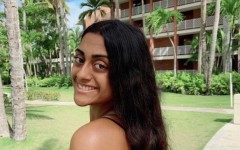 Sakshi Lawande, Copy Editor
Sakshi Lawande is a senior at Pleasant Valley and she is a copy editor for the Spartan Shield online. She is known to be a supportive and caring person...