Why Should I Care About the California Wildfires?
As the plethora of wildfires in California continue to spread, concern about how long it will take to control each fire continues to grow.
As of now, the Kincade fire has engulfed 74,000 acres of land in the state of California. The fire is spreading rapidly, with only 15 percent of it under control. Though the Kincade fire is of great concern to California residents at this devastating time, there are additional concerns as well. 
As a result of a branch falling onto a power line, another immense wildfire continues to burn in Brentwood, California: the Getty fire.
While firefighters are currently trying their hardest to contain the majority of the Getty fire, they are struggling to take action on time. As time is of the essence when stopping the spread of wildfires, the firefighters must make hard decisions on which buildings they are able to protect. 
Many buildings, including homes and businesses, have been lost to the fires due to the firefighters having to make these difficult decisions. Additionally, several California residents have been forced to evacuate their homes without warning in order for their safety. 
Though the fires may not be a direct threat to the safety of those living in the Midwest, the importance of empathy in times of crises remains evident. Senior Grace Welveart believes people should be more aware of the effects of the fire, regardless if it is taking place thousands of miles away. "I feel like people do not truly understand what it means to be evacuated," she said. "People are losing their homes."
Some local students have family members who have experienced the harsh effects of these fires. Senior Ashley Woodford pointed out that family members were forced to relocate as a result of the fire. "Our grandparents live in Blythe and they had to evacuate their house," she said. "Thankfully their home did not end up burning down."
While relief efforts may seem difficult to contribute to from miles away, the Kincade Fire Emergency Relief Recovery Fund is just one of the many fundraisers available online to help donate to families from any location. 
As hundreds of lives continue to be impacted by the ever-growing fires, the necessity for the spread of awareness continues to grow with the spread of wildfires.
About the Writer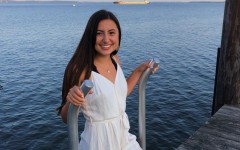 Kate Stewart, Copy Editor
Kate Stewart, 17, grew up in Muscatine, Iowa, and moved to Bettendorf in 8th grade. She has used her time here at Pleasant Valley High School to get involved...