Glowing for a cause: Student uses unconventional project to create ocean awareness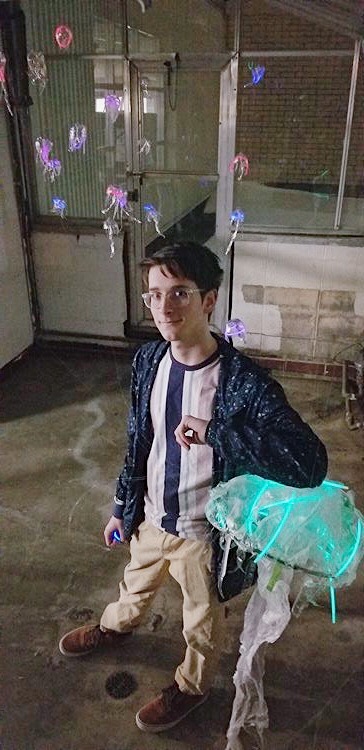 Most 3D art students tend to head for the clay to create their work, but one PV student is being recognized for an unconventional idea that turned his project into a form of activism.
Using recycled materials to create a gallery of glowing jellyfish, senior Laylon Baucom wanted to work with the very materials currently being pulled from the oceans. 
Each handmade jellyfish is made from an array of items that Baucom found throughout the school's recycling boxes, such as plastic bottles, straws and saran wrap. He then melted some of his findings to form the shape of the ocean creatures.
After putting multiple weeks into his project, Baucom was ready for the final step, which was to create a display in the school's observatory. Each jellyfish was hung by a string from the ceiling. After the sun set in the window-filled spaced, the fish illuminated the room, seemingly floating.
The installation will be moved to MidCoast Fine Arts once a location is chosen by the board. 
With a rise in awareness of pollution as a whole, Baucom's project intends to focus on common items used every day to convey the importance of taking care of the earth.  
In addition to being made from recycled goods, the jellyfish glow in the dark. Baucom wanted the project to have a captivating ambiance. "I thought the glowing would highlight the interesting effects that jellyfish present," he said.
The AP 3D art teacher, Alex Medenciy, finds the use of recycled materials particularly important because of the specificity of the items. She sees Baucom's project as an important reminder that art can transcend its typical decorative purpose. "I think it's important for students to realize that art doesn't have to be a pretty picture, but it can be a tool to stand for or say something," she said.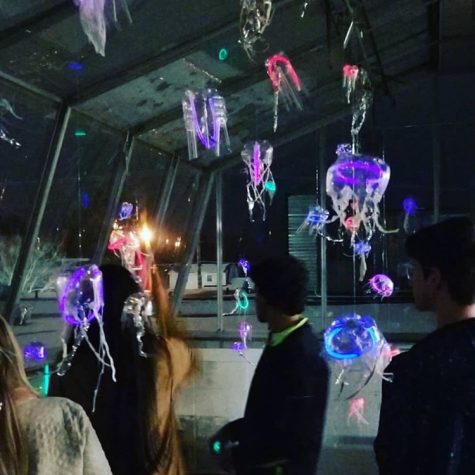 Baucom is not only presenting his idea to his peers at school but is also selling some of the pieces of the installation to support the cause that inspired his art in the first place. "I think with a project like this that is meant to convey a message, it is important to be able to do something with more impact," Baucom shared.
Each jellyfish is being sold for $5 and 20 percent of Baucom's earnings will go towards The Ocean Cleanup. This organization takes part in cleanups of not only oceans but the streams and rivers that feed into them. Currently, 11 of the jellyfish have been sold, but he hopes to sell more. 
With a purpose of doing his part to save the oceans, Baucom hopes to bring awareness to this cause with his glowing jellyfish, showing how art can be more than meets the eye. 
About the Contributor
Ava Sorgenfrey, Sports Editor
Ava Sorgenfrey is a senior at PVHS and the current Sports Editor for the Online Spartan Shield. Not only a proud member of Spartan Nation, she is also...