Christmas in the East Village: bringing the community together through holiday traditions
Hang on for a minute...we're trying to find some more stories you might like.
Cups of hot chocolate, trays of holiday treats and houses decorated with Christmas lights indicate one thing: the holiday season is officially here. With its arrival, communities are beginning to celebrate in a traditional manner. 
However, one local location provides a unique type of celebration during the holiday season: the East Village of Davenport. The site allows families to celebrate through joyous festivities with a free admission to their Christmas in the Village.
Because of sponsors, small businesses and volunteers, people have been able to celebrate Christmas in the Village for the past 43 years.
Whether it is with their family or with their friends, many students come here for the seasonal aspects.
Students come here and remember their childhood through various activities: taking pictures with Santa, writing letters to Santa and even seeing the fireworks. While many of the activities are intended for younger children, teens still enjoy coming to the village with their families or friends to experience the holiday atmosphere.
Junior Raegan Stein doesn't go to the village every year, but she loves the little buildings and shops that are in the area, and she likes to support the small businesses in the village.
Stein went to Christmas in the Village for her third year and states that this time of year is a great way to relive your childhood. "There are many things I miss out on now because I don't have time to do them, but I feel like Christmas in the Village is a great way to feel like a kid again," she said.
Children and teens go to the village during this season for different purposes, and there are many opportunities for everyone to have fun. "When I was younger, my favorite thing was to go to the fire station and talk to santa, but now I enjoy getting hot chocolate at lagomarcinos," Stein said. 
The village also allows families to spend time together and begin their festivities earlier in the month. Senior Abbey Wehrheim went for her first year and loved it. "Being busy with school this year has made it harder to spend time with my family as much as I used to," she said. "Going to Christmas in the village allowed us to spend the holidays together earlier."
Although Christmas in the Village only lasts two days in December, families enjoy coming out there to start the holiday season.
About the Writer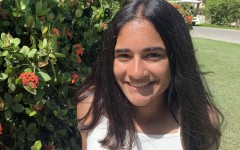 Eesha Lawande, Copy Editor
Eesha Lawande, a senior at Pleasant Valley High School, is a copy editor for the Spartan Shield online. She is known to be a very sarcastic, humorous and...