Breaking down the stereotypical barriers in football
The idea of a female coaching a male team has raised some eyebrows in the past, but this Super Bowl Sunday there was nothing but respect for the 49ers offensive assistant coach, Katie Sowers. 
Sower's transition from the basketball court to the football field was a monumental step for women's athletics this February when she became the first female to coach in the Super Bowl. 
Sowers was a youth basketball coach when she caught the eye of Scot Pioli, former general manager of the Kansas City Chiefs. He was impressed with her coaching and offered her an internship with the Atlanta Falcons when he began working there in 2016. 
The following year she joined the San Francisco 49ers as part of the Bill Walsh Diversity Coaching Fellowship, which aims to increase diversity among the coaching staff.
Head coach of the Pleasant Valley football team, Rusty VanWetzinga, has an all male coaching staff, but loves that females are becoming more involved in the sport.  "I personally think it's great to see some diversity in the coaching field. A sport like football is so popular, people watch, learn and study the game so I am not surprised to see a female involved in coaching." 
However, Sowers is not just diversifying the coaching staff of the NFL, she is also inspiring thousands of people around the world. Many see her contribution to the Super Bowl as another step forward in creating equal opportunities for female involvement in sports.
Head women's basketball Coach Jenifer Goetz is very passionate about continuing to achieve equality in athletics. "Football has always been known as a 'man's' sport. With Katie Sowers coaching in the NFL then in the Super Bowl- huge step for women's sports," she said, "It shows that gender shouldn't be an issue when it comes to coaching or any job. This is very impactful for all women far beyond the sports world." 
After the Super Bowl Twitter exploded with pictures and tweets from people supporting Sowers and her commitment to football. Many users also tweeted out that their daughters had drawn pictures of her and accepted her as a role model while others complimented her breaking through another barrier between genders roles. 
Despite the 49ers loss, Sowers' story and accomplishment will not be forgotten. "This inspires younger generations to keep following their dreams and not to be afraid to conquer the unknown," said Goetz. 
Many believe that the female involvement in coaching at the NFL will continue to gain popularity. "I would not be surprised one bit to see more females involved in coaching and officiating. We are seeing it in the NBA and the NFL," VanWetzinga said.   
Sowers was one of the first to make her debut in a major male sporting event, but she will not be the last.  
About the Contributor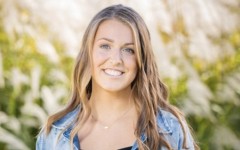 Ellie Scranton, Student Life Editor
Ellie Scranton or as many people would call her El, El Bel, Scrat, and Scantron, is a senior at Pleasant Valley and is an incredible athlete. She showcased...