Ninety two years of under-representation in the film industry
The Oscars are Hollywood's biggest night. Actors, actresses, directors, screenwriters, producers and more of Hollywood's brightest are nominated based on movies from 2019. But what happens if some of the most critically successful directors of the year aren't even nominated?
2019 was a breakthrough year for female directors. According to the Hollywood Reporter, "10.6 percent of the directors of 2019's top-grossing movies were women." Marvel Studios Captain Marvel was co-directed by Anna Fleck and Ryan Boden, and grossed over a billion dollar, making Fleck the first woman to co-direct a blockbuster that has grossed over a billion dollars
Female directors have proven they can lead a film past the billion dollar mark: a feat only 45 films have passed. So why are they not being recognized by the Academy? 
Oscar nominees for each category are voted upon by members of a certain branch; actors nominate actors, directors nominate directors, etc. Since female directors only represent about 10% of the directors working in Hollywood and not every person working in Hollywood is a member of the Academy, it's no surprise that Best Director is one of the most underrepresented categories at the Oscars. 
In the 92 year history of the Oscars, there have only been 5 female nominees for Best Director.  Lina Wertmüller for Seven Beauties, Jane Campion for The Piano, Sofia Coppola for Lost in Translation, Kathyrn Bigelow for The Hurt Locker, and Greta Gerwig for Lady Bird
Of the five female nominees only Bigelow was able to secure the win for Best Director. Other than those 5 women, the Best Director category is one of the most underrepresented categories of the Oscars. Of the 92 winners for Best Director, only one has been a woman and 91 have been men. 
This year there are five directors nominated for Best Director: Bong Jong for the foreign suspense film Parasite, Sam Mendes for the war drama 1917, Todd Philps for the comic book thriller Joker, Martin Scorsese for the Netflix crime film The Irishman and Quentin Tarantino for the vintage Hollywood comedy, Once Upon a Time in…Hollywood. 
All five of these films were exactly what the Academy was looking for. It was something different; they were cutting edge and groundbreaking. But these five are not the only films who's directors deserved recognition from the Academy. 
Before Oscar nominations were announced on Jan. 13 many speculated at least one of these five female directors would be nominated: Lulu Wang (The Farewell), Greta Gerwig (Little Women), Marielle Heller (A Beautiful Day in the Neighborhood ), Lorene Scafaria (Hustlers), and Alma Har'el (Honey Boy) were all considered in the running for a nomination. 
Female directors have had an uphill climb since the beginning of their careers. Even now, studios are considered to be taking a risk if they hire a female director instead of male. Since the beginning of Hollywood, a man is usually the one sitting in the director's chair. Any one of these five female directors could have easily been nominated, but it is no surprise that they were snubbed. 
The under-representation in female directors is upsetting to many, including senior Amy Oberhart. "Women have directed so many great movies over the year, and to have them discarded by an award show is upsetting. If a girl wants to be an award winning director there's one person to look up to in the Oscar realm," says Oberhart. 
2020 is already looking bright for female directors in Hollywood. Some of the biggest blockbusters of the year, Mulan, Black Widow, Wonder Woman 1984, and The Eternals, are being directed by women. Although these films may not be nominated for any Oscars in 2021, this is a step in the right direction for female directors. Studios are trusting women to direct some of the biggest movies of the year, and this will open more doors for female directors in the future.
About the Contributor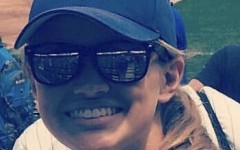 Maggie Peterson, Business Manager
Maggie Peterson, a senior at Pleasant Valley High School, is the current Business Manager for the Spartan Shield Online. Because of her dedication to academics,...