The magic of Disney meets the talent of PV choirs
Combining classic Disney music and the PV choral program is guaranteed for a night of fun and entertainment.
Last Tuesday, Pleasant Valley hosted its annual District Choral Festival. The choirs were made up of a variety of different groups. They ranged all the way from sixth graders to twelfth graders. It was interesting to see the level of progression from the very beginning of their time in the choral program to the very end.
In between large group performances, the high school's jazz choirs (Belle Tones, Jazz Nouveau, Jazz Etc. and Leading Tones) performed to keep the flow of the concert going.
The Concert Choir performed a heartfelt rendition of "Remember Me" from Disney Pixar's Coco. The song featured junior Jared Jones on the guitar and a solo performed by Claire Sackler.
Chamber Choir started their performance with a unique take on "Vuelie" from the Disney animated hit Frozen. Junior Ben Curran played the hand drum during the song and it paired nicely with the sections of the song. The audience enjoyed their a capella rendition of "Under the Sea" from Disney's The Little Mermaid and adored seeing the performers dance throughout the song.
The concert wouldn't have been complete without Mickey and Minnie Mouse. Junior Taze Wilson and sophomore Caroline Sierk portrayed the iconic couple in the concert's final number. Sierk jumped at the opportunity to portray Minnie Mouse. "Disney has always held a special place in my heart, and I imagine that my directors anticipated my excitement," said Sierk.
The concert can be an exciting time, but can be bittersweet for some, including senior Holyn Doran. "I've been singing in district choral fest since 7th grade, and while I'm sad to be done, I'm glad I got to sing at 6 District Choral Fest[ival]s while at PV," said Doran.
District Choral Festival brings students of all ages together over one thing: their love of music. This is Sierk's favorite part of the concert. "Like the magic of Disney, music's pull is timeless. I love seeing that adoration growing constantly across the district," said Sierk
Pleasant Valley choirs are continually growing and their success is evident. Twenty two students from PVHS were selected for All-State last fall, and this continued success will fuel the choral program at Pleasant Valley for years to come.
About the Writer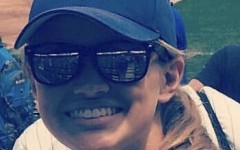 Maggie Peterson, Business Manager
Maggie Peterson, a senior at Pleasant Valley High School, is the current Business Manager for the Spartan Shield Online. Because of her dedication to academics,...