Step by step: Olympian spreads her wisdom to make young athletes greater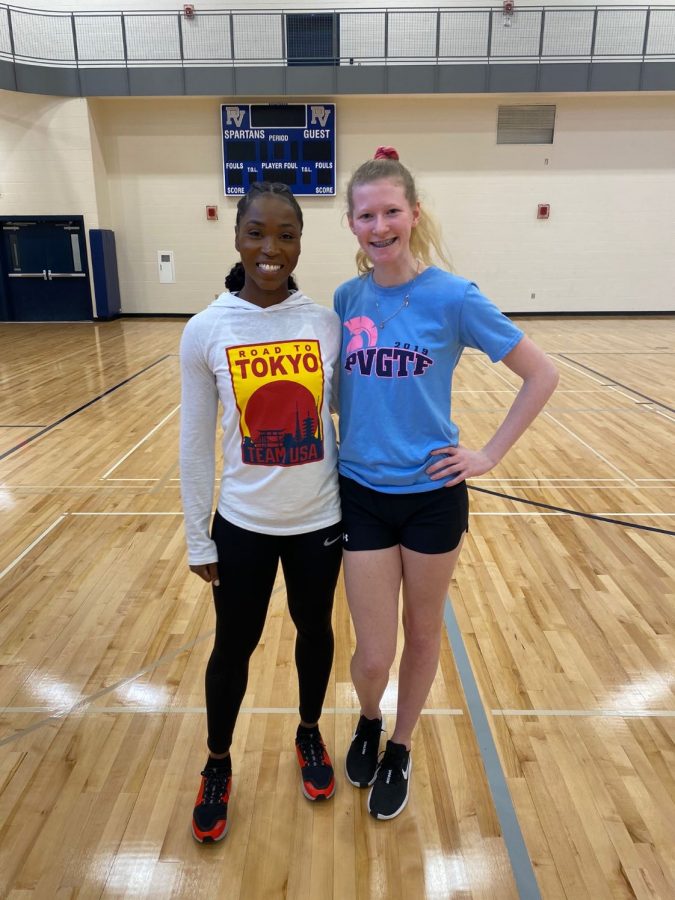 A two-time olympian and three-time olympic gold medalist can provide a lot of insight, wisdom and advice to athletes training to be something greater. It's not everyday that anyone gets to meet an athlete as successful and experienced as Tianna Bartoletta.
Bartoletta currently co-holds the women's world record and received a gold medal at the London 2012 Games for her team finishing in first place in the 4 x 100 meter relay in 40.82 seconds. She won two more gold medals at the Rio 2016 Games for long jumping 7.17 meters and for her team finishing in first place in another 4 x 100 meter relay in 41.01 seconds.
On Saturday March 7 Bartoletta came to PVHS and hosted a workshop called 'Why You're Not a Track Star'. 
This crash course covered nutrition and recovery, how to develop mental toughness, learn more about confidence and where it comes from, how to do common drills and the accountability of being a team and reaching one's goals.
Kenny Wheeler, head coach of the Pleasant Valley Girls Track and Field team, helped set up this workshop for the athletes who wanted to attend. "This fall, I saw that she was taking requests for her workshop and decided to inquire via her website," he stated. "We went over some of the details via email and put our schedules together to make this happen."
Wheeler has followed Bartoletta's journey for the past couple years and thought that her strong character would have a lot to provide to young athletes. "She is always very honest, but it's real and personable and inspiring because I think she connects with all of us in a very human way," he emphasized.
Bartoletta made sure to make the athletes who attended feel welcomed and in a comforting environment. She conversed with the crowd and answered any questions that anyone asked her. She not only provided each attendee with a copy of her Ebook, 'Why You're Not a Track Star,' but also with a booklet that included her crash course agenda.
To conclude the workshop, she demonstrated some running drills and had the athletes participate as well. She showed the step-by-step process in order to teach the mechanics and ensure everyone knew the importance of what they were doing and how to properly do it.
Junior Harmony Creasy got a lot out of the workshop and enjoyed the presentation Bartoletta gave. "My favorite part of the demonstration was when she sat on the ground to show us how our arms should be moving while running," she stated.
She also enjoyed how much Bartoletta interacted with the athletes and demonstrated ways to make sure they know how their body is feeling at the time. "She really focuses and gets to know her body. She takes the time out of her day to see how every part of her body is working," said Creasy. "She [showed] us things that she uses to see how her muscles are moving."
Bartoletta's workshop was an eye-opening experience for many athletes and coaches. From the experience she has and the advice she shared, she not only provided many people with more knowledge to improve their track and field capabilities, but also how to be healthier and better themselves as a person.
About the Contributor
Lena Ahrens, Social Media Manager
Lena Ahrens, 18, is a senior at Pleasant Valley High School and was born and raised in the Quad Cities. Ahrens enjoys spending time with her friends and...