Running into the new season: Track is just around the corner
Hang on for a minute...we're trying to find some more stories you might like.
If there's one thing Pleasant Valley is known for other than academics, it's sports. With many of PV's athletic teams advancing to state, athletes, coaches and spectators are excited about what this year's track team will bring home.
Since the beginning of the track program at Pleasant Valley, members have shown that with good coaching and belief in team members, they can make their dreams come true, including those of senior Kent Nichols. 
Nichols spends a lot of his time at the University of Northern Iowa and has committed as a track member because of his great work throughout high school.
Nichols worked hard to achieve what he has accomplished. Running in second at the MAC Varsity meet for the 3200 meter run, first at Districts for the 3200 and overall ninth at state for the 3200 last year. All of this being said, Nichols still has one last season with the Pleasant Valley track team and with it approaching quickly, Nichols has been working hard to prepare.
"For this season I have been putting in a lot of winter miles – more than I ever have in the past years. I'm super stoked for what this season has to bring." he said. "My goals for this season are to be on our 4×800 relay team and go back to run the 3200m at Drake and eventually at state." 
Not only does track teach its members how to be a good runner, but it also gives some important lessons that members will carry with them forever. "The thing that will always be with me is a quote Belby has said in all my years of running at PV, 'you have to earn the right to run more'. To me, that quote shows in all things throughout your life," stated Nichols. 
Nichols is excited for what the boys track team is going to do this season and hopes that his team can accomplish what they need to. 
Switching sides to the girls track team, head coach Kenny Wheeler is excited for what this year's team has to bring because of the crazy amount of training the girls have been putting in. "A number of our athletes participated in a newly designed jumps and agility training program that occurred two days a week this winter and we've had a number of our distance athletes either running on their own or getting together two days a week to run together after school," he said.
Junior Harmony Creasy is looking forward to her third season with the team and has been preparing since the beginning of winter. "I have been working with one of the coaches every Monday and Wednesday and have been working with a personal trainer on Tuesdays and Thursday to work on form," she said.
Last season, Creasy finished in sixth for long jump, seventh in the sprint medley, fifth in the 800 meter relay and sixth in the 1600 meter relay at Drake.
At state, Creasy went on to get second in the sprint medley, third in the 800 meter relay and eighth in the 1600 meter relay.Hoping to accomplish more than she already has, Creasy has big goals for this season and looks for help in her coaches.
Although Wheeler has taken the role as the head coach, he has more to teach the girls other than how to run. "We want to be more intentional about what it means to be a team – to care for each other and to break down some of the natural walls that exist because of the different event groups in our sport.Those goals will be entrenched in how we operate as a team this season through training and team activities," he said. 
Being part of a team is something unimaginable. It provides a shoulder to lean on in times of need and allows members to push each other to work their hardest. "We want the young women of this team to realize the power they have individually and as a collective group. The lessons that our young women take away from this sport are much bigger than the sport itself," Wheeler said. 
Having three daughters himself, he wants to advocate how to be a strong woman while on a team but as well as in society. "These young women are much greater than any time or place or trophy so understanding there's immense value in who they are and that they have greater self-worth than anything this sport can give them."
Track isn't just a sport at Pleasant Valley High School. Track is a community where people can work on themselves with the help and support of teammates and coaches. "If anyone is thinking about going out for track, do it! The first couple of weeks are the hardest so don't give up right away!" said Creasy.
Track season will begin on Feb 18. Fill out the interest form to be a part of this amazing team!
About the Writer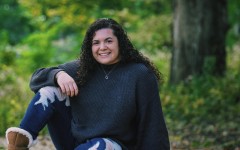 Cecilia Zavala, Overflow Section Editor
Cecilia Zavala is a senior at Pleasant Valley, and a vital part in the Spartan Shield online. In addition to her duties for the Shield, Zavala is a member...