Local student becomes Dean's List finalist for empowering women in STEM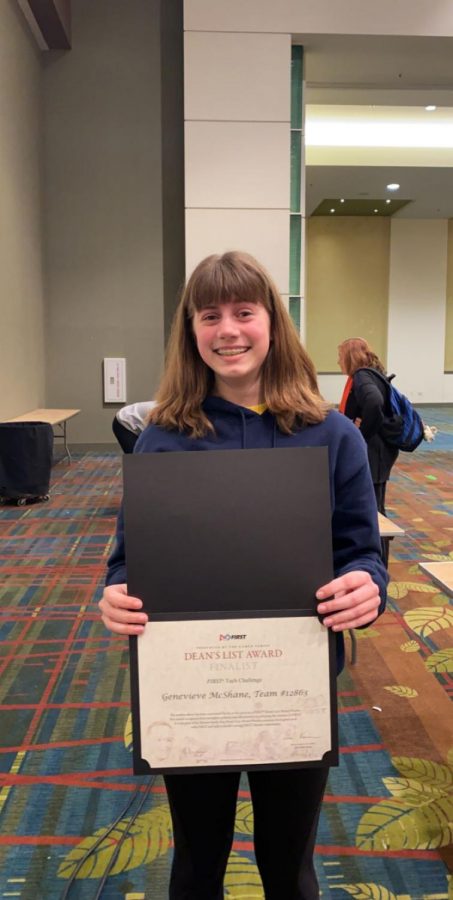 At the Iowa State Championship for First Tech Challenge, the five Dean's list finalists were being named. "When the fifth and last finalist name was announced, I had a strong feeling that it would not be me. However, when my name was called, I was shocked. Every single semi-finalist in that room could have won, yet the reviewers/judges chose me. It felt surreal and brings a smile to my face whenever I think back to that moment," junior Genevieve McShane said in regards to becoming a finalist on Feb. 29.
The Dean's List Award has recognized members from FIRST Tech Challenge (FTC) robotics teams since 2010. Each FTC team may nominate up to two students that exemplify leadership qualities and entrepreneurial spirit. Each student will receive a 5-7 minute interview followed by the announcement of the five Dean's List finalists in the state. Each finalist is invited to the World's Championship where 10 winners will be announced by FIRST Founder Dean Kamen, and FIRST President Don Bossi. Winners of the award also receive support from many prestigious colleges such as MIT, WPI and Yale. 
McShane was nominated by FTC Team 12863 Flourish & Bots earlier this year, and mentor Emma Alexander played a key role in her nomination. "When the team sat down to discuss nominees for the Dean's List award, Genevieve immediately came to mind. Her demonstrated leadership and commitment were certainly notable." Alexander continued, "Each time we talked, I learned about more ways she continued to pay it forward and serve her community outside of our team. I'm so unbelievably proud of her for being selected as a finalist, but I can't say I'm surprised." McShane has made a tremendous impact in the community through the vision of Science Technology Engineering and Math (STEM).
Genevieve is an active mentor for FIRST LEGO League teams 2838 and 38323, as well as supporting multiple FIRST LEGO League Jr. teams during their season. While FIRST has provided a foundational platform for Genevieve to both develop as an individual as well as support the development of others, she has gone above and beyond the confines of FIRST to continue supporting the STEM community.
McShane centers her outreach to the community around creating a safe and supportive environment for young women to get interested in STEM. With over 140 hours of outreach, McShane has attended various events throughout the community geared towards female empowerment. These endeavors include volunteering with the Women in STEM program at her local high school, speaking at local "Introduce a Girl to Engineering" events, teaching a coding class at the local elementary once a month and presenting her robotics teams to local Girls Scouts. "I have noticed that a lot of young girls are becoming more involved in STEM as well as older female STEM professionals. By participating in events like these, I hope to spread the word that being a woman in STEM is a cool thing that can become a career," McShane passionately said. 
But McShane credits much of her success and passion for STEM to her FTC Robotics team Flourish & Bots. She quickly became one of the founding members of The Flourish & Bots Project in 2014.
The team was created with the mission of inspiring young women in STEM and enabling an environment in which girls could feel empowered through robotics and outreach. "Being on Flourish & Bots has impacted me in more ways than I could've ever imagined. Getting to see these young girls become so excited about robotics and watching them grow up into confident young women has inspired me so much. This has given me the opportunity to learn about different STEM related career paths that have impacted what I want to do in my future: mechanical engineering," McShane said. 
She continued, "Flourish & Bots has impacted my life in so many ways and I will forever keep this team and its people close to my heart." Thanks to her robotics team and dedication to women in stem, McShane was recognized as a Dean's List Finalist for her astounding work for the community. She will soon be traveling to the World Championship in Detroit, Michigan eager to hear the winning 10 students across the country. 
About the Contributor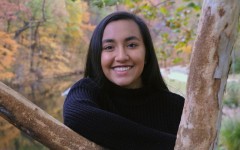 Preksha Kedilaya, News Editor
Preksha Kedilaya is a senior at Pleasant Valley High School and the current News Editor for the Spartan Shield Online. In addition to working for the Shield,...