Coronavirus: Spring sports face the effects of the outbreak
The sudden outbreak of the coronavirus has caused adverse effects on all aspects of students' lives, including athletics. Many spring sports are being affected by the coronavirus. 
Recently, high school athletes are beginning to see the virus negatively affect their sport. The Pleasant Valley track team  had to remove a meet off of their schedule as a safety measure. The cancellation of their track meet at the University of Dubuque on March 13 has raised many questions and worries among students. Due to the facilities used for this meet being too small and the risk of the illness being spread, the meet was cancelled.
Practicing during the season will be harder for Spartans as well. "Training will have to change if school gets cancelled over break," senior Ava Sorgenfry said. "This could make things very difficult if hypothetically we don't have school because we are losing precious training time," Sorgenfry explained. 
This cancellation prevents many athletes from getting the opportunity to qualify for Drake Relays, a very important track meet that only the top athletes in all classes can compete in. "It will make it a little harder to qualify for Drake because we are missing a chance to compete and see what other teams look like," Junior Paige Berst said. 
Many students that participate in a club sport are also being affected by this outbreak. Sophomore Kora Ruff plays volleyball for Iowa Rockets VBC. Recently a very big tournament they were going to attend and get the opportunity to get a bid for their age group has been cancelled because of the coronavirus. "All of these cancellations will have a great impact on our future and this club season," Ruff said. 
Many athletes from different clubs are worried about their recruiting process. "I was planning on going on college visits during spring break which have already been cancelled," Ruff explained. "Being able to see the campus is a big factor in deciding where to go." 
Of the tournaments that haven't been cancelled, many of the directors are being careful and taking safety precautions. They are taking steps such as  wiping down volleyballs before and after each match, not having pre-game and post-game handshakes and having hand-sanitizer available at all of the score tables. They also ask that only immediate family attend the tournament. 
Colleges are also affected by this outbreak. Many schools all over the U.S are not allowing face-to-face lectures for up to two weeks. University of Iowa, UNI, and Drake University are just three of the many schools across the U.S. that are requiring students to stay home.
Unfortunately, just as many thought things couldn't get any worse, the president of the NCAA announced something that broke the heart of many college athletes in all divisions. "NCAA president Mark Emmert and the board of governors canceled the Division I men's and women's 2020 basketball tournaments, as well as all remaining winter and spring NCAA championships." 
Many senior athletes have had their last moments taken from them. That one last bus trip with the team, one last night in a hotel or that one last team meeting with the people that have  been by their side for four years. In the span of 24 hours, this has  been erased. Many athletes are wondering if they could get that year back. There has been a petition made and shared all over many social media platforms for athletes to get a year of eligibility back.
For all of the athletes whose seasons have been affected by the virus: Be sure to take safety precautions to help prevent this virus from affecting more people. And for those who are still playing the sport they love, don't take it for granted. In one day everything could change.
About the Writer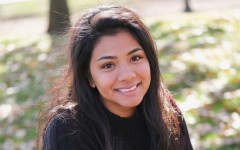 Ilah Perez-Johnson, Sports Editor
Ilah Perez-Johnson, a senior at Pleasant Valley, is very involved with athletics. She has played volleyball all four years of High School and was an essential...