March madness without the madness: Tournaments may be held in empty stadiums
March Madness is a time filled with hardcore fans easily picked out by their brightly painted faces and jerseys. That madness could fade away this year if one group succeeds in their goal. 
The National College Players Association wants to protect players from the threat of the coronavirus. "In the wake of the emerging coronavirus pandemic, the NCAA and its colleges should take precautions. There should be serious discussion about holding competitions without an audience present," the group expressed in a previous statement. 
In addition to holding the tournaments in empty stadiums, the NCPA wanted any events where players would make contact with fans, such as meet and greets or press events to be canceled. In response to this, the NCAA staff prepared for both tournaments carefully. "We are keenly aware of coronavirus and will continue to monitor in coordination with state/local health authorities and the CDC," they stated. 
If tournaments were to be held in empty stadiums, it would cost cities hosting the annual competition tens of millions in tourism dollars. Instead of doing this, the NCAA created an advisory panel led by their chief medical officer Brian Hanline, along with experts from the University of Colorado, Emory University, Vanderbilt University and Vivek Murthy, the former Surgeon General of the United States. 
Senior Ben Wilson thought the NCAA was doing enough. "They have taken enough precautions to ensure the coronavirus will not be a major issue for the fans that attend the games," he expressed.
The coronavirus has spread globally, affecting spring break travels, and threatening both the men's and women's March Madness. An increasing number of cases were officially diagnosed in the United States. California was put into a state of emergency, and more than 290 million students from prekindergarten through grade twelve globally have had their education disrupted by school closures amid the spread of the coronavirus. 
The NCAA encouraged those attending any games of the tournament to wash their hands often and thoroughly, and make sure to stay away from those who don't feel well. 
Many students follow March Madness and participate in the many bracket challenges. The Yahoo Sports challenge prize was one million dollars. 
The coronavirus has threatened many parts of the globe and impacted many spring breaks. If this continues, March Madness could be held without fans and even the Olympics could be canceled.
About the Writer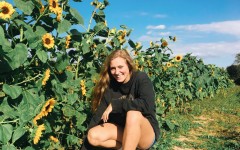 Sunny Wolfe, Copy Editor
Sunny Wolfe, 18, was born and raised here in Bettendorf Iowa. Sunny has attended the Pleasant Valley Community School District since she was in Kindergarden....