COVID-19 causes concern for students looking for summer jobs
The summer is a time for high school students to begin making money and preparing for adulthood. However, COVID-19 brings uncertainty to many students as their chance for  a summer job is questioned or changed completely. 
As the state opens up in the next week, restaurants, coffee shops, and gyms will reopen with safety precautions. This will allow some students to go back to work, however some summer jobs may not offer the same flexibility.
Senior Emma Meade works at Camp Shalom, a Christian summer camp, during the summer time. She is still unsure of how her summer will be, "as of right now we have no idea what is happening," she stated.
Governor Renyolds has opened campgrounds, however there has been no announcement about the opening or closing of summer camps for the year. "The plan for now is to start camp on June 28 and add an extra week of camp in August," Meade commented. "I would usually be getting all excited to start staff training on June 1, but I am stuck at home waiting to hear what is going to happen. There is a lot of uncertainty." 
For others, their job is more secure. Senior Kenzie Klatt will be a nanny this summer and doesn't think a lot will change, "COVID might have changed what the kids and I will be doing, but I don't think it will have any future impact," she commented. 
While waiting for summer to come, Klatt has been working at Freshii in Bettendorf. Freshii was open at the beginning of quarantine for take out, but closed until last week. "I just recently started working again and it has been very slow. We mainly just do door dash, uber eats, and grub hub along with pick up," said Klatt.
While it is exciting to see all of the restaurants, coffee shops, and gyms opening up, safety is still important to continue to protect against COVID-19. Many restaurants are limiting their capacity to 50 percent and they are continuing to wear masks and gloves. 
However, at Freshii not much has changed, "Not a whole lot has changed besides for wearing masks. We were already very clean and sanitized a lot before COVID so there isn't much to change," expressed Klatt. 
Throughout the pandemic, students have been thrown for a loop and it seems as though it will continue into the summer, affecting more than just school.
About the Writer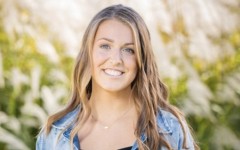 Ellie Scranton, Student Life Editor
Ellie Scranton or as many people would call her El, El Bel, Scrat, and Scantron, is a senior at Pleasant Valley and is an incredible athlete. She showcased...