Brazil: The coronavirus takes its toll
The country of Brazil, just like many other countries throughout the world, is still dealing with the coronavirus pandemic and its consequences towards animal and human health. 
Brazil has been proactive towards the start of the year with coronavirus concerns that were growing to hit the top of the peak with their cases reaching to 271,000 people roughly. As of May 21, there have been 17,000 new cases reported to show the increase in the virus still. 
According to writer Darlington there are reports about a law in Brazil to halt the virus. The virus has spread to many different parts throughout the country, making sure that there is an absolute necessity for a mask to be worn. Talking about congress making a next move in their country to combat this virus. 
 Congress in Brazil highlighting the dangers and necessity of staying clear away from other people who are infected. Launching a public service announcement about the health standards and requirements needed. "Amid the spiraling health crisis, Brazil's lower house of Congress approved a proposed law, which would make the use of personal protection masks in public spaces mandatory.
The proposed law would require people to wear any form of face covering in areas that are accessible to the public, including parks, sidewalks, public transportation and even private buildings where there is a high level of foot traffic. Individuals not wearing masks would be fined up to $52."
Showing us the importance of wearing masks to Brazil and it's citizens will help slow the virus down and could cause big penalties used against if seen by public officials without one. Brazil is climbing in cases and death toll numbers.
"Brazil achieved the grim record of having the third-highest number of coronavirus cases in the world, behind the United States and Russia." This quote showing the severity of the virus outbreak in Brazil to other countries around the world creating confusion on what to do for the  next step of the virus.
Brazil's government is acting stiff with the number of cases in the world falling right now except for the big three-United States, Russia and Brazil.. Coronavirus case numbers are slowing down in many countries and its spread to its citizens first is the key. Time is amongst the decider of how this pandemic will show how countries pull through the virus.
About the Writer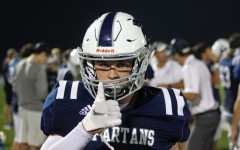 Blake Sherman, Photo Manager
Blake Sherman, a student athlete at Pleasant Valley High School, is a fun, kind and motivated person who enjoys spending time with friends and family as...