Chiropractic care: the benefits of getting adjusted by a professional in 2020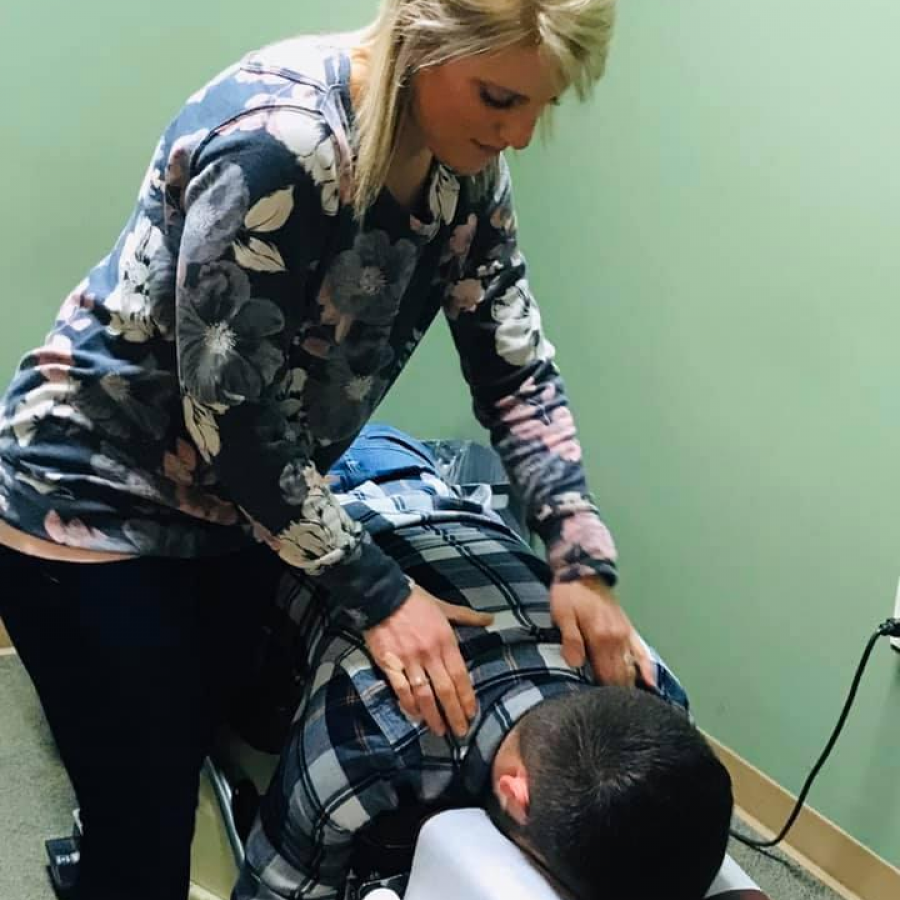 From years of cheerleading with stunting, jumping, kicking and tumbling, my back has understandably been worn down. I have endured great pain in my back for years without knowing how to solve the issue. After searching for what seemed like an eternity, I finally found the solution that has changed my life.
I have been mostly a base when stunting, meaning I am usually one of two people on the ground that is holding the flyers foot up. I have also had my fair share of being a back-spot; which is the person in the back of the stunt holding the flyers ankles, catching most of the stunt falls and taking hits.
Learning the right technique for stunting safely can be difficult and take time. When basing, the proper technique includes, but is not limited to: using your legs while lifting, tightening your core, locking your arms and shrugging your shoulders. Unfortunately, I did not consistently use the right form until around my sophomore year.
Therefore, my body position was wrong and putting pressure on my back for three years. When I entered high school, we started doing harder stunts, which intensified my back pain as I continued to use the wrong technique.
I was not ignorant to my flawed technique. I simply needed a kick start to learn the proper method.
Tumbling classes were also contributing to my increasing back pain, but my family and I were not really sure what to do about it. I stretched it, rolled out my muscles and even tried taping it for practice. I did not exactly do anything about it because of my passion for cheerleading, so I continued on.
My basing technique started to improve by the end of my freshman year when I spoke up and got additional help, but that certainly did not take away the years of my bad form and my accumulated discomfort.
During my junior year, my team and I were warming up our stunts on the track at Brady Street Stadium in Davenport, before the football game against Davenport Central.
We were working on a pyramid which involves three stunts where the flyers hold on to each other. There was a mistake that had never occurred at practice before, and I was hit by my flyer's body on the back of my head which pushed my neck down, caused my shoulders to cave in and my back to arch.
Tears immediately trickled down my swelled eyes as my back and neck were aching. I had the mindset that I was no quitter, so I iced my sore neck and cheered the entire game.
After the game I told my mom about my injured neck and back and my head's limited mobility, since I could not fully turn my head. My grandma fortunately overheard and she suggested that I see a chiropractor. My mom, taking my grandma's advice, called and set up my first appointment. Luckily, they were able to see me within a day of scheduling.
I was definitely nervous for my first treatment, but leaving the appointment I felt so much better. The mobility in my neck improved and I was able to turn my head with no issue. I could twist and sit up straight without any problem. Sometimes in the craziness of sports and life in general, it is necessary to get adjusted to put everything back in its rightful place.
After I went to the chiropractor for the first time my junior year, I have continued to go back. I have taken numerous hits from falling stunts in cheer, and I can always count on the chiropractor to leave me feeling like a new person. I have even referred to the chiropractor when I strained multiple back muscles from weight lifting. They had me do an Electrical Muscle Stimulation (EMS) treatment for my sore muscles.
Other athletes in the PV community have also looked to chiropractic care for help to continue with their individual sports. "I go to the chiropractor before meets because it helps relieve and reduce the tightness in my muscles and puts my body back into the proper form," Hunter Meyrer, a wrestler at PV said. He also believes that going before meets improves his performance.
Morgan Ramirez, a former PVHS student has degenerative disc disease and going to the chiropractor has allowed her to continue her track career at the collegiate level. "It helps me be ready and fresh for everyday and this way I'm able to keep up with all of my sports and activities I do," Ramirez explained.
While chiropractic care can be extremely beneficial to athletes, it is also helpful for non-athletes people in general too.
Chiropractor Traci Nelson-Johnson at Nelson Chiropractic in Bettendorf agrees. "Chiropractic care improves sports performance by improving the function of the nervous system, improving range of motion, decreasing recovery time and reducing pain," she stated.
Going to the chiropractor has many benefits on the human body. According to Cleveland Clinic, going to the chiropractor can help with not only back pain, but also migraines and headaches, neck and spine injuries, joint issues and even whiplash. When experiencing pain or soreness, a visit to the chiropractor just may leave you feeling better.
For any student, athlete, or adult that is experiencing pain in their back or neck area, I would highly recommend seeing a chiropractor. I have been able to live life with significantly less back pain because of my trips to the chiropractor. Life can be demanding on your body and it is always good to provide yourself with the means to heal and bounce back for more challenges.
About the Writer
Addi Steele, Photo Manager
Addi Steele is a senior who serves as a photo manager for the Spartan Shield. Addi is a very committed athlete and is very involved in multiple school...