We are better than this: stop misrepresenting PV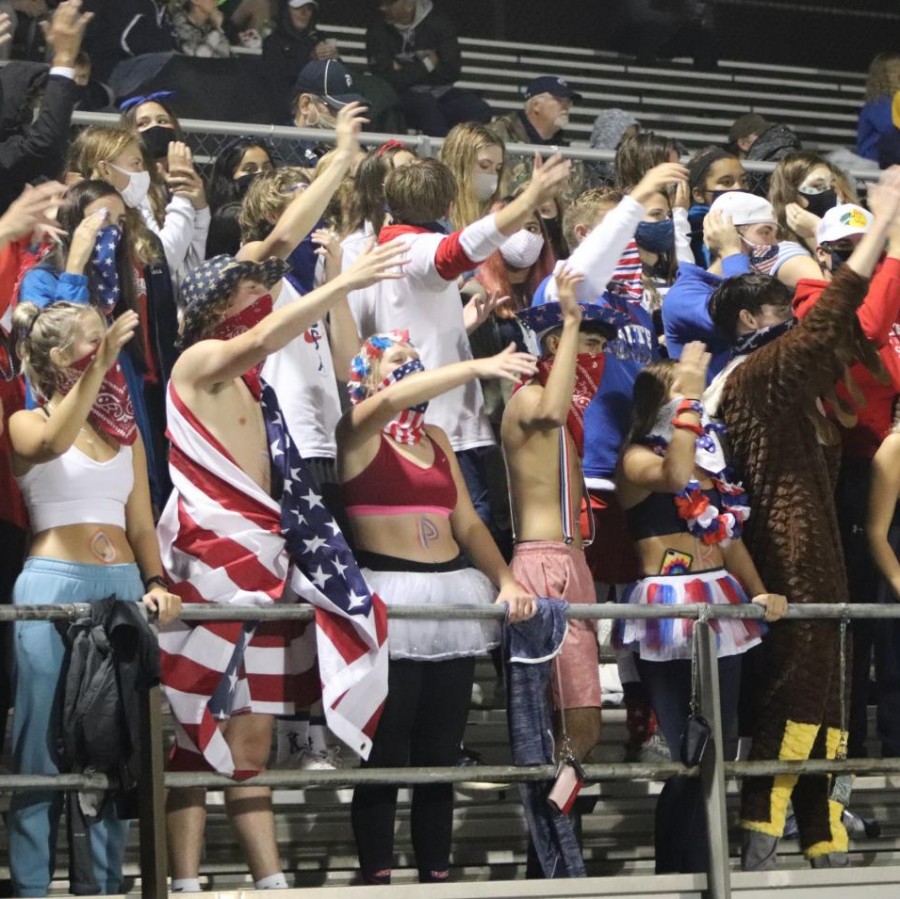 To say the Sept. 25 football game against Bettendorf was embarrassing would be an understatement.
As PV students, we pride ourselves on being elite, yet we cannot even wear our masks right at a football game, and we make political statements under the name of our school. It brings up the following question: how are we representing PV?
Going more in depth on the football game, there were three moments that stand out in my mind – PV students yelling during a moment of silence for two deceased Bettendorf teachers, a group of students wearing political masks and section leaders improperly wearing or neglecting to wear their masks.
The two teachers mentioned are Keith Bonnstette and Delia Ford, both of whom died of unknown causes. After the moment of silence began, PV students continued to yell. Some are claiming they were unable to hear the announcement, but that is no excuse.
Bettendorf student Kaitlynn Flick was shocked when she heard the yelling during the moment of silence. "…[A]ll of us were a little upset because we all loved Bonn dearly and the moment of silence meant a lot to us," Flick said. Not only did this upset Bettendorf students, but some PV students were outraged by their fellow students' actions.
Even if some students were unable to hear the announcement, it is their fellow students' responsibility to tell them. Either way, it was a disrespectful moment that could have been avoided had students cared more about PV's image.
There was also a group of students that decided it would be appropriate to purchase Trump masks for the game. Obviously, the first amendment protects their right to publicly display their opinions. However, there is a time and place for everything.
A high school football game is not the time nor the place, especially because the PV vs. Bettendorf game is one of the largest community gatherings. Politics are polarizing, so making a political statement that seems representative of PV is inappropriate and disrespectful.
The final stain to PV's image was groups of students who were either improperly wearing or neglecting to wear the mandatory masks.
Libby Bowe, student section leader, is an advocate for wearing masks during events. "When we see students not wearing their masks, we politely ask them to put it on, but some students feel it's not important," she explained. Despite her efforts to get students to wear masks, she cannot watch over the whole student section.
After seeing the amount of COVID-19 guidelines being broken during the PV vs. Bettendorf game, Bowe was disappointed in her fellow students. "It is a privilege for students to attend athletic events and the one thing administration asks of us is that we wear our masks for the safety of friends and family," Bowe expressed.
All of these events have saddened me. I know that PV is one of the best high schools in the state, but if we are going to call ourselves elite, we need to present ourselves as such.
It is no secret that the name Pleasant Valley conjures up images of rich, ignorant kids. I know that this generalization is false, and I know other students share my beliefs. The problem is the community does not get to see behind the scenes – what they think about PV is directly based on how we represent ourselves in public.
Regardless of the rivalry, yelling during a moment of silence is inconsiderate and disrespectful. Regardless of your beliefs, making a political statement under the name of PV is ill-timed and distasteful. Regardless of your health risk concerning COVID-19, infringing the mask guidelines is flat out ignorant.
I know that PV is full of well-rounded, whole-hearted, amazing people. As PV students, it is our job to represent this to the community. I encourage all students to ask themselves this: how am I representing PV?
About the Contributor
Nathan VanUtrecht, Copy Editor
Nathan VanUtrecht is currently a senior at Pleasant Valley High School, where he is very active in after school activities. He is a member of the robotics...