6 tips to hack your college applications
With college applications being due as soon as Nov. 1, many students are feeling the pressure. However stressful applications may be, here are a few tips and tricks to make the college application process a bit easier:
1. Interact with your intended schools
Since many schools are not offering campus tours, they have resulted in providing information sessions and campus tours online via platforms such as Zoom. A great way to demonstrate your interest in schools and get on their radar is to attend these sessions. Simply visit the college's admissions office website and find an information session that works into your schedule!
2. Make a spreadsheet of the colleges you are applying to
 An effective way to keep track of your applications for specific schools is to make a spreadsheet featuring information such as average G.P.A., average ACT, whether you plan to apply early or regular admission or how many supplemental essays are required. Keeping this information organized and in a centralized location makes it easier to access information and stay on track for important deadlines. 
3. Make your essay stand out
College admissions committees read hundreds of applications each day, so it is important to write your essay over a topic and in a way which will stick out to whoever reads your essay. Colleges often recommend writing essays over sports, service trips and tragic events where the message you are conveying is not focused on you. Some students have gotten into prestigious universities, such as Johns Hopkins,  writing about topics such as growing strawberries in a locker or potatoes. Whatever you decide to do, try finding an essay idea which is unique to you and your future goals and will leave the admissions committee with something to remember you by.
4. Ask an outside source to proofread your application
Whether you ask your parents, an older friend or a teacher, make sure to ask someone to look over your application to catch any minuscule errors. However, try to ask someone who has already gone through the application process and is familiar with. It is also advised by several colleges to avoid sharing application materials with other students going through the application process, since it is easy to subconsciously be influenced by other ideas, allowing similar ideas to circulate throughout admissions committees – especially if you apply to the same schools.
5. Be authentic
Whether it is through your personal essay, supplemental essays, interviews or whatever other interactions you may have with a school, it is important to stay true to yourself and genuine. While it is a common misconception that there are certain answers schools are looking for from potential applicants, many have stated they simply want to get to know you for who you are! Remember to stay true to yourself and demonstrate why you are the best fit for the school, rather than trying to be what you think the school is looking for.                 
6. Do not overstress
While it can be easy to be consumed by the seemingly never ending process of writing college and scholarship essays, do not fret if something does not go according to plan or you do not get into your intended school. It may seem like the end of the world right now, this is just the beginning over countless opportunities we will have throughout our life. So while it may be unavoidable to have a little stress, do not stress too hard, especially because things like this are out of your control. 
As you work through your applications, remember these tips to help make your application stronger and stand out a little more. Good luck!
About the Writer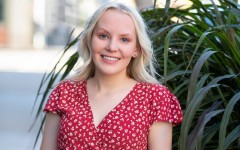 Ingrid Hofmann, Editor-in-Chief
Ingrid Hofmann is a senior at Pleasant Valley High School and serving as the Spartan Shield's Editor-in-Chief this year. She is a involved student, participating...