Making her mark: Freshman dancer makes unique grand entrance
The dance floor is far from uncharted territory for Maci Quam-it has been her home for 11 years. This year, however, the freshman is stepping onto a new type of stage.
Since its founding in 2002, the Platinum Dance Team has been a staple in PV's athletic program. As one of the high school's most successful teams, Platinum has made a name for itself within the PV community.
The team's prominence spiked Quam's interest in becoming a member from a young age. "I had always planned on joining Platinum," she said. "Seeing all my friends try out last year and watching the older girls from my studio made me want to try out even more." This excitement to join Platinum would not surprise anyone who knows Quam and her dance history. 
While Quam is new to the world of team dance, she has long been a fierce competitor for studio dance. The 14-year-old has been a member of Above the Barre Dance Academy's competitive team for nine years and has quickly risen to be one of the studio's top dancers.
Quam's extraordinary talent has allowed her to compete twice at the highest level dance competition known as The Dance Awards. Those who are familiar with dance know the significance of a ticket: in the dance world, it is essentially the Super Bowl. 
According to Quam, dancing at the prestigious competition was an amazing experience. "Performing at The Dance Awards was nerve wracking, but in the end I learned so much," the freshman reflected. "I got to learn from many of the best choreographers in the business and seeing dancers from around the world pushed me to work even harder." 
With a new level of encouragement, Quam set her sights on earning placement onto PV's state champion dance team. 
Earning a varsity position as a freshman is no easy feat, but for the class of 2024, it was seemingly a cake walk as a record five freshmen were drafted onto Platinum's varsity roster. Making varsity in one's first year of high school is impressive in itself, however it was much more of a challenge this year than before.
Due to COVID-19, the final quarter of the 2019-2020 school year at PV was moved online, leading to the cancellation of all spring activities. This cancellation prevented Platinum from holding open gyms to allow those interested in joining the program to learn pom technique and other detrimental stylistic knowledge of dance team. 
The lack of preparation was not an issue for Quam as she became the only member of the freshman class to receive a state solo. To earn this honor, a dancer must score in the top six during tryouts, and for a freshman with little to no dance team experience, it can be considered a career highlight. 
Quam was very excited when she received the news that she would be one of the six dancers representing Platinum at state. "I was not expecting to get a state solo, but it felt good knowing my hard work paid off," she expressed. "I can't wait to perform the new solo I have been working on."
Along with the other five soloists, Quam will perform at Wells Fargo Arena on Nov. 19 and is expected to place in the top 12.  
Despite the freshman having mastered the art of studio dance, dance team is known to be quite different. While studio dance is typically more flowy and emotional, dance team requires more sharpness and specific placement. In addition, with dance team comes pom: the most used style of team dance that is not generally taught in studios.  
Platinum's captain, senior Aimee Richards, was very impressed with Quam's ability to pick up the technicalities of the dance team style despite the late start. "Maci is an amazing listener and picks up choreography quickly," she commented. "She applies all corrections to herself and is always working her hardest to become better." 
Throughout the season, Quam has proven herself to be an essential member to Platinum. Her steller technique, consistency and hard work ethic has caught the eye of both her coaches and captains. Now, only weeks away from the state competition, Quam and her teammates are putting the finishing touches on their routines. 
As for her future on Platinum, Quam said she is looking forward to building strong friendships with her teammates and finally being able to compete on the state floor. She appreciates being able to dance with people who do not attend her studio and believes the level of talent Platinum possesses will be shown to the fullest extent when they perform at Wells Fargo. 
Richards believes the Platinum program is very lucky to have a dancer as hard working and talented as Quam for another three years and is excited to see the leadership roles she will take on as an upperclassman.
At the same time, Richards sees Quam benefiting greatly from being on PV's dance team. "Platinum teaches you a lot about working on a team, and it has also taught Maci a new style of dance: pom. Being well rounded in all styles is important in dance, and being on the team will help [strengthen that knowledge]." 
Quam may only be a freshman, but she has already made her mark in the dance team world and proven she is a force to be reckoned with.
About the Writer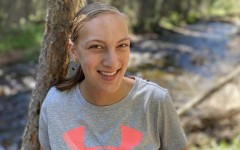 Elizabeth Pischke, Copy Editor
Elizabeth Pischke is an involved senior at Pleasant Valley High school, and serves as a copy editor for the Spartan Shield.  At school, Pischke is a member...