The road to Wells Fargo: Platinum's pursuit of state success despite pandemic
Five months ago, the odds were highly stacked against the Pleasant Valley Platinum dance team. With no camp, no summer practices and a raging pandemic, their chances at state were slim to none. 
But Thursday, the team defied those odds and won their chance at a state title.
Like many other athletic teams across the country, Platinum was shut down in the spring thanks to COVID-19, and the lack of gym time over the following months prevented them from being able to dance together or learn to work as a team.
Not being in the gym also prevented Platinum's newest members from learning the specifics of the dance team style. While dance team is similar to the more known and practiced studio dance, it consists of sharper movements and pom: a style of dance not usually taught in studios. 
But instead of accepting defeat, the dance team rookies took it upon themselves to learn the new style.
Freshman Platinum member Adrianna Slings felt challenged without the normal preparation, but found alternative ways to train. "I spent time outside of practice drilling hand placement and names of moves in order to keep up with my team," she explained. "I also had a lot of help from my teammates. Without [them] I probably would have fallen behind."
A proclamation by Iowa governor, Kim Reynolds, in May allowed for outdoor summer sports to return June 1, however, indoor sports were not allowed to resume until July 1. Platinum was set to start practices in early July, but due to the rise in Scott County COVID cases, the team was forced to cancel remaining summer practices.
It was not until late July when Platinum finally returned to the gym. The first practice back they began working on state choreography. This year, Platinum labeled their season as "relentless" and had a jazz routine to "Simply Irresistible" by Robert Palmer and a pom routine with a "Guess Who's Back?" theme alluding to the team's two state wins last year. 
At the 2020 Iowa State Dance and Drill Association (ISDTA) state championships, Platinum came out on top with state titles in Class Xlll pom and Class VI jazz. These victories resulted in the program's ninth and 10th state wins and cemented Platinum's reign as the team in PV's athletic program with the most state golds. 
Last year's success and the desire for a two-peat was a motivator for senior member Kaitlyn Christ, but with COVID cases still rising, the status of state was uncertain. "The feeling of finding out that we had placed first in both categories last year was amazing," she reflected. "However, coming into this year with COVID and everything, I honestly just wanted to dance at state."
Typically the ISDTA state championships, hosted at Wells Fargo Arena and HyVee Hall, are held in the beginning of December. The 2021 competition was originally scheduled for Dec. 3 and 4, 2020, but in an effort by the ISDTA board to keep state alive in the midst of the pandemic, the competition was moved up and split into a three day competition from Nov. 17 to 19. 
The date change caused three weeks of preparation time to be lost for all participating teams. Usually in those final weeks of preparation, Platinum has multiple long Sunday practices and is able to perform in a showcase with other area schools as a dress rehearsal before the actual competition. This year, these things were unable to happen since these events took place after state.
"When I found out state got pushed up I was very upset," Slings said. "I did not feel like I would be prepared enough to compete and was worried I would let my team down."
With a new competition date, Platinum had to rearrange their preparation schedule which included many early out practices on Fridays and moving the original Sunday practices up two months. 
State season started much earlier than usual and ended up being quite different for Christ. "With the shortened prep period I was a little nervous. Having been through the state season process twice before, I definitely found myself going back to those other seasons and comparing [our progress]," she explained. "But we moved at our own speed and it was amazing."
As the pandemic continued to be a pressing issue throughout Iowa, whether or not state would still happen was unknown. Fortunately for Platinum, the odds turned out in their favor and the team was able to travel to Des Moines on Thursday Nov.19 to compete. 
Like many things in 2020, the state scene looked much different for the defending champions. They performed much later in the day, only were allowed in the arena three routines before their own and had to leave immediately after performing instead of staying to watch their competitors. 
While state looked different this year, Platinum was still able to find the positives in being able to perform. "Dancing at state for the first time was awesome," Slings commented. "Being backstage with my team getting ready to perform was something amazing, but the second we hit the floor I was hardly thinking. I was just having fun and giving it my all."
Christ agreed the feeling backstage is immaculate. "Dancing for the final time at Wells Fargo was amazing," she said. "Nothing is equivalent to the feeling right before you go onstage and the feeling of knowing you just nailed a dance right after." Although her time dancing at the Well is over, Christ is very thankful for the three years she's been able to do so.
Despite the COVID-19 pandemic changing nearly everything, Platinum was able to find a bit of normalcy while competing at state. The team is set to find out how they placed during the Dec. 5 livestream on ISDTA's website.
As for now, the team is incredibly pleased with their performances and are looking forward to the rest of the season together, whatever that may bring.
About the Contributor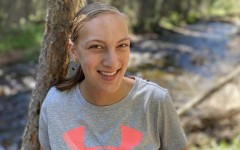 Elizabeth Pischke, Copy Editor
Elizabeth Pischke is an involved senior at Pleasant Valley High school, and serves as a copy editor for the Spartan Shield.  At school, Pischke is a member...