Safe spring break? The concern of travel amid COVID-19
Last March, countless spring break plans were altered due to concerns with the new and relatively unknown COVID-19 pandemic. Nearly one year later, spring break plans remain uncertain due to the same virus.
This year, the return of 100 percent in-person learning as well as the continually rising number of  COVID-19 cases throughout the nation have left students concerned about the spread of the coronavirus during spring break. With the inability to completely social-distance at school, students and staff are concerned about the impacts of spring break travel.
Looking back to spring break of 2020, though many trips were canceled, many students continued with their vacation plans as little was known about the virus. But, after an entire year, a multitude of research has been conducted, giving Americans more knowledge on its transmission and changing their perspective on travel.
New information regarding travel and the virus has left some students concerned about going on spring break this year, such as senior Sarah Babka. "I feel much less safe going on spring break this year," she said. "Now knowing the magnitude of the situation, I do not feel as comfortable traveling." Although airlines have extra precautions in place, the risk of contracting the virus is still a serious concern.
With March quickly approaching, the possibility of an uptick in COVID-19 cases at PV and around the country is a serious concern. As the district begins the transition into 100 percent in-person learning, students, like senior Ella Litchfield, are concerned about the impact spring break will have. "I cannot form an opinion as to how [spring break travels and full-time school] will affect the school, but my biggest concern is how Pleasant Valley will abide by the COVID-19 restrictions," she explained.
Similar to Litchfield, Babka is also concerned about the increase in cases due to spring break travel. "I think that the number of cases will definitely increase…However, I think it will just be a short term increase, " she shared. 
The concern among students remains constant, but the approaches to decide to travel this March and how to stay safe over spring break vary from student-to-student.
About the Writer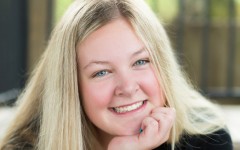 Kendall Jarvis, News Editor
Kendall Jarvis, senior, is the News Editor for the Spartan Shield. She is involved in dance after school and is a member of the National Honor Society....