Never out of the fight: Boys basketball team fighting for conference championship after slow start
The Pleasant Valley Men's basketball program has always been a reputable one under head coach Steve Hillman. 
During his 13 years as head coach, Hillman has led the Spartans to an overall record of 209-89. It is not often that the Spartans are chosen to finish in the middle to bottom of the Mississippi Athletic Conference (MAC). This year they were selected to finish fifth out of the entire MAC, leaving a chip on their shoulders. 
To start the season, the Spartans lost two of their first three conference games but they were not going to let that stop them. Senior and team captain Jacob Townsend explained that it was a hard blow with all of the preparation they had put in this offseason. "Coach got after us after the first few games," he said. 
Rather than face the eye of defeat, the team made practice adjustments including a focus on what PV prides themselves on — such as "drills that helped with toughness, rebounding and defense." 
As the season continued, the Spartans found themselves on an upward climb to the top of the conference. The practice plans had paid off as the Spartans now lead the state in opponent points at just 35 per game (next closest 39) while scoring 46. 
Just as the Spartans were heating up and on a nine game win streak, their leading scorer, Townsend, was placed in quarantine after testing positive for COVID-19. 
Due to the coaches strict policies about masks and social distancing, the rest of the team remained healthy and were able to play on without him. Although Townsend played an important role on the team being the leading scorer,  the team was still able to win a crucial game against Davenport West, a top team in the Conference. 
As the 2020-2021 basketball season is quickly approaching,the Spartans have defied the expectations put in place for them  by currently being 12-3 on the season and in sole possession of the conference with five games to go. 
The Spartans have positive thoughts with Townsend coming back and lots of momentum heading into the postseason. Team manager Michael VanDerSchaaf has a first hand view on the team and believes it will contribute to continued success.  "The energy at practice is high right now, the guys aren't making many mistakes and are getting better every day," he claimed. 
With all of these pieces added up, Spartan Nation, along with the team, is hoping for a strong finish.
About the Writer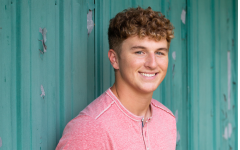 Seth Clausen, Photo Manager
Senior Seth Clausen is one of two photo managers for the Spartan Shield. In addition to his duties for the Shield, he loves being outdoors, hanging out...