Five things to do if you are stuck at home for spring break
Every year around spring break, there is a huge conversation about who is going where and who has to stay home. With the pandemic still spreading rapidly, spring break traveling is in question now more than ever.
While it is important to follow guidelines and try to stay home, a large fraction of people are dying to get out and travel, especially with the past year being so difficult. However, The Centers for Disease Control and Prevention are adding new rules to make sure that the people who choose to travel are staying safe. Effective Jan. 26, anyone over the age of one in the US travelling internationally is required to provide a negative COVID-19 test before boarding a flight. This rule is enforced regardless of if the passenger has gotten a COVID-19 vaccine. 
Due to the new enforcements and the encouragements to stay home, many people are choosing not to travel over spring break this year. For some teenagers, this may be really upsetting, especially with seeing their peers travel. However, there is a bright side to staying at home. You are keeping yourself and others safe.
Here is a list of things you can do if you are stuck at home for spring break.
#1 – Spend more time with your family
Family is one of the most important things in life, and it is often under appreciated. While being at home bored for a week, find things to do with them. Whether it is just talking, having a movie night, or playing a board game together.
#2 – Try a new recipe
Whether you prefer baking or cooking, find a new recipe and try it out with friends or family. Maybe you will find a new favorite!
#3 – Have a socially distanced picnic with others who are at home
All you need is a group of six or less, a few blankets and food! Find a local park and a day when it is nice out and have a fun picnic. 
#4 – Watch the sunrise
With no school during the break, you most likely will have a lot of free time and will not be on a strict sleep schedule. Find a day to wake up early and watch the sunrise, you could even make a fun coffee trip out of it.
#5 – Go on a bike ride
Bike rides are amazing because not only are they super fun, but a great workout as well. Go on a bike ride and try to find new spots near you and go somewhere that you do not usually go!
About the Contributors
Paris Fietsam, Social Media Manager
Paris Fietsam is currently a senior at Pleasant Valley and is the Social Media Manager for The Spartan Shield. She is heavily involved in extracurriculars...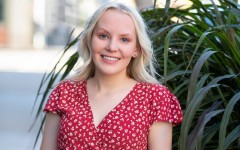 Ingrid Hofmann, Editor-in-Chief
Ingrid Hofmann is a senior at Pleasant Valley High School and serving as the Spartan Shield's Editor-in-Chief this year. She is a involved student, participating...