Resisting the societal mold: Students pursue careers in art
The starving artist trope — struggling in a big city, but enchanted by their work — is commonly told to many aspiring artists, deterring them from considering the subject as a viable career option.
Within the walls of each educational institution, art is often taught solely as a hobby, reserving any actual positive conversation of job security to other areas of society, such as science, technology, engineering and math (STEM) careers. 
Art is restricted by the shackles of time and generational stereotypes following one single narrative: art is unsuccessful, unsupported and only a career for those lacking the skill sets to thrive elsewhere. 
Those who find themselves with interest in such a career are told it will lack substance, aid way to the continuation of the starving artist and lack importance in the future of the job market. Within the folds of the stigma, creativity becomes a lack of sustainable motivation, talent becomes a source of amusement and possible realities become solely dreams. 
Not only does this dishonor the legitimacy of art as a career, but it disenchants the appeal to those who could have a real possibility of thriving in the art world. It hides prosperous careers within the wrinkles of age old stigmas against the validity of such a future. 
Senior Lola Johannsen has been enchanted by art all of her life, and as someone who has found passion and curiosity within the outlet of her art and is pursuing it into college, she feels the need to shed light on the ways in which art is more than a classroom activity. 
"Art is therapeutic for so many people, especially for those who may be struggling with mental illness," she explained. "It's an understatement to say that art and mental illness run hand in hand. Art has been my outlet, and often artists like myself find themselves lost in their heads." 
"Overcoming this hurdle has probably been one of the hardest things I've done in my life, and it has been art that has made that happen," she continued.
The ways in which Johannsen has been able to overcome her personal struggles within her artwork mirror the goal of many silenced artists: to feel heard, respected and validated. Her personal understanding of the stereotypes at hand in respect to artistic careers provides insight into the reality of an artist. 
"People often think that I will be absolutely broke after college, and honestly, I find this kind of funny. I think the thought that the arts are not as valuable as STEM in the career field is absolutely arbitrary," Johannsen digressed. "Who do you think designs the logos for companies across America? Who do you think makes your movies, cartoons and shows? It's us." 
Her point is often disregarded as unsupported and reverted back to the argument that art is not a sustainable career. When it comes down to it, it reveals a lack of understanding buried underneath societal standards. 
Art teacher Aimee Peters lent clarity to this often neglected conversation and explained the root of this stigma. "I think it is challenging because old stereotypes die hard. Once students are in a post-secondary program in art though, I do not think that the stigma really continues. Most post-secondary programs and institutions recognize the importance of visual arts careers in the world," she said. 
"Some parents may not see it as a viable career option because they do not understand what all a career in art entails," she continued. Throughout her well informed explanation, Peters explained that the opportunities of an artist extend beyond the stereotypes created by those who fail to see the importance of artistic expression and careers.
Both Johannsen and Peters elucidate deeper into the value placed on STEM careers in the education system as opposed to artistic options, and although they take on different perspectives, Johannsen and Peters both conclude a similar theme: each career holds great significance to the person who is willing to pour themselves into their passion.
"Just like a career in STEM, a student who is pursuing a career in art is going to have to try to be the best at what they do so that they stand out among other applicants in their field. If they do that, then opportunities will be there," Peters added. "Everything in our world is designed, from the buildings that we work in, to the clothing we wear and to the packaging on the items we consume, so there are plenty of jobs in art fields."
Peters explained an important point that many fail to emphasize: any and all fields one may work in are competitive, and with that competition comes a need for work ethic and dedication. Students who have that will succeed, regardless of the so-called opportunities people believe do not exist in the arts. 
An exemplary student who portrays this pure dedication to their craft is Johannsen, and with her willingness to work against the mold societal standards have attempted to create for her, she has successfully found her pathway. "I will be attending The School of the Art Institute of Chicago. This is a private institution and I am blessed to have been given the Creative Honors Merit scholarship which is a cumulative $71,400 to attend the institute," she shared.
Although her major is undecided, her dreams are within reach as a result of her capability to resist the restrictions she has encountered, and she hopes to continue to accentuate the need for support in the arts just as much as other careers. 
Johannsen is not the only successful artist from PV that has proven the stereotype against artists to be wrong, and Peters shared just that. "My daughter, Olivia Peters, is majoring in Human Anatomy and Physiology on a Physician's Assistant track at the University of Iowa. She is also pursuing a minor in visual art," she explained.
"Despite my daughter's doubts, her advisor told her that having a successful minor in Art would help her to stand out amongst other applicants when applying to PA school. Even in the "academic" world creativity is valued as a good skill to have." The success stories do not stop with Olivia Peters, and Aimee Peters explained further examples in hopes of encouraging students to not fear the stigma against the art world. 
"Ben Flynn was in my photography class years ago. After high school, he attended the Brooks Institute of Photography in Los Angeles, California," she said. "Ben has now been a successful freelance photographer for over 10 years and travels the world. He has done shoots for Nike, Wilhelmina models, and many other recognizable brands."
Peters explained deeper into his story, stating that he started out shooting pictures for the PV football games, eventually sending some of his shots to local papers and becoming an advocate for himself by continually expanding his craft, and furthermore succeeded in becoming published. 
Underneath the degrees and jobs achieved by these artists are years of hard work, excellence, and defying the limitations they all likely felt at some point. Olivia Peters, Ben Flynn and Lola Johannsen are few among many artists that work towards erasing the narrative told generation after generation through their stories.
About the Writer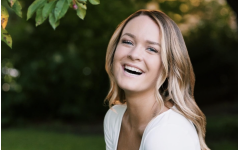 Anna Thorne, Arts and Entertainment Editor
Anna Thorne is currently a senior at Pleasant Valley and has a love for friends, family and all things summer. Other than her role as the Arts and Entertainment...