REVIEW: "I Care A Lot" blurs the line between good and evil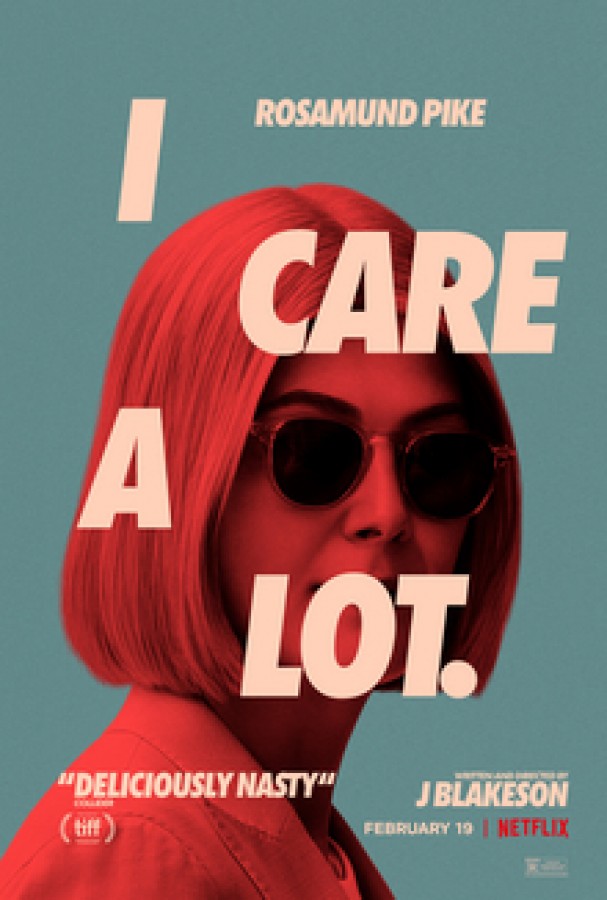 As a second wave to the director's thriller productions, comes "I Care A Lot." This film, inspired by many "legal" yet immoral acts in America, intoxicates an unsuspecting audience as it divulges a world of crime. 
J Blakeson uses this riveting film to comment on the american dream as his main character, con-artist Marla Grayson, commits her criminal acts to achieve wealth. 
Netflix premiered "I Care A Lot" on September 12, 2020, and this story brought about a humorous undertone to people in our society who strive for power and money. Rosamund Pike, also seen in "Gone Girl," plays the lead role of the controversial Marla Grayson, emulating a villainous, competitive criminal.
The film is set in Boston, Ma. where Marla and her girlfriend, Frankie, have a routine and partnership with both a local doctor and an owner of a nursing home. The two assist Marla and Frankiein taking advantage of elderly people. 
Marla uses her intricate knowledge of the legal and medical world to carry out her "get rich quick" scheme. She becomes the legal guardian of elderly people who were wrongfully claimed "unfit" and forced into nursing homes against their own free will. 
The criminals then sell the homes belonging to the elderly and turn over their possessions for profit. Families of the victims  eventually make accusations against Marla, but they are most often dismissed by the court for lack of evidence. 
Blakeson portrays the lead as untouchable until she makes one wrong decision that alters the future of her livelihood. Marla becomes the guardian for a woman named Jennifer Peterson (Dianne Wiest) and learns that this decision makes her vulnerable to dangerous people. 
Eventually, Frankie and Marla are violently threatened and faced with a choice to run or to stay in battle with Jennifer's connections. 
In most stories, there is a definitive line between good and evil. However in this production the audience is drawn into the support of a strong, female criminal who steals funds from the innocent. 
The character is based on many people who strive for the American Dream of luxury and comfortable living. An american audience easily confuses Marla's characteristics as they are so well respected in our own society. 
Marla's competitive identity maintains feministic ideals which draws the audience into supporting her criminal schemes. 
Blakeson utilizes Marla's characteristics and dangerous enemies to reveal a hint of trauma in her development. As she is being confronted by Jennifer's connections, they threaten to attack her mother and she responds, "Go ahead. I don't (care)… about that… psychopath." 
This statement reveals a deeper insight into her character and portrays the depth of her upbringing by showing how she lacks sympathy for her mother. 
"I Care A Lot" alludes to many endearing backstories which adds to the morality of the main character. One notable tale of Marla's past is her failed vaping business. She holds a vape quite frequently throughout the film as an accessory. This was confirmed by Rosamund Pike in an interview with Collider.
"The backstory of Marla is that she had a vape business until she was Walmart-ed out of business by a great big discount vape store opening across the street, which she was furious about. … She had a small-time business, she was a small-time business owner, she got screwed and then she thought,… 'I'm gonna play the system like everybody else.'"
The storyline provides the possibility for a sequel based on the many clues of the life which turned Marla into a criminal. 
"I Care A Lot" creates insightful messages on the development of the american economy. The audience's comfortability with Marla's cruel actions speak only of the society created by american standards and the american people's constant admiration of money and power regardless  of how one may achieve it. 
About the Contributor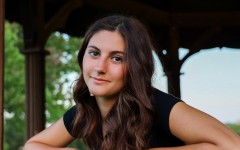 Ella Litchfield, Photo Manager
Senior Ella Litchfield is the Spartan Shield's Photo Manager for this semester. Along with the Shield, Ella is a Spartan Assembly representative and...