Luka Garza: From lowa recruit to Hawkeye legend
Over the past 4 years, Luka Garza has been the biggest name when it comes to Iowa Hawkeye basketball. From the time Garza was a freshman, he has had a huge impact on the team with his leadership and work ethic. 
In fact, many people such as one of Iowa's very own student managers, Jackson McLaughlin, believes that if it weren't for his work ethic and drive, he wouldn't be in the spot he is today. McLaughin said that "his work ethic is no doubt one of the best I've ever seen, there's the division 1 athlete level of work, and then there's another category for Luka". 
It has appeared to many Iowa fans that Luka only got better each year of college which is a direct sign towards his character and ability to outwork opponents. Through his hard work he has found himself as the frontrunner for the John Wooden award, became the Hawkeye's all time leading scorer, and for many, known as the greatest Hawkeye basketball player ever.
Garza has had such an impact on the Iowa basketball program. He has led them to multiple high end seasons including this year, being ranked 3rd at one point. Because of his large amount of success, the University of Iowa decided to give back to him. On March 7th, following their win again Wisconsin, head coach Fran McCaffrey surprised Garza by retiring #55 from Iowa basketball.
The most remarkable thing about this is that he has not finished the season yet. The hawkeyes are coming in hot to the postseason. For the first time in 13 years, the Hawkeyes are playing to make the Big 10 championship and looking to get a 1 or 2 seed in the 64 team NCAA tournament.
Luka is not only a great basketball player, but he leads the team by example. McLaughlin also explains how Garza "doesn't only lead the team with his competitiveness, but he leads by class on and off the court." Competitiveness is a key part of leading a basketball team in the Big 10, which is such a competitive conference.In a Hawkeye uniform, Garza has scored over 2100 points and surpassed the previous all time leader last month. Garza has shown zero sign of slowing down and is looking to end the season on a high note for the team and himself by winning the NCAA player of the year award.
About the Writer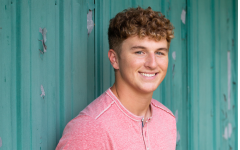 Seth Clausen, Photo Manager
Senior Seth Clausen is one of two photo managers for the Spartan Shield. In addition to his duties for the Shield, he loves being outdoors, hanging out...