New limits reached: Athletes evolving over time
Why has the world record for almost every event in the olympics gone down over time? From the late 1800s to now the record for the 100 meter dash has gone down a significant 1.22 seconds. 
People have many reasons for why they think the decrease occurs, but according to statistics it definitely isn't a coincidence. Over the past 130 years, the record has been broken 68 times. 
Many point to the new weight room facilities and modern technologies that help athletes become bigger, faster and stronger. Others believe it's because of playing multiple sports, leading to becoming a better athlete. 
Not only have the statistics shown that talent has become more present in running and Olympic sports but others such as baseball, basketball and football. In baseball, the speed of fastballs thrown by pitchers has recently skyrocketed. Pitchers now are at an all time high velocity which is much faster than pitchers from the past.
In the past 10 years, the MLB average fastball has increased by an incredible average of two M.P.H., meaning pitchers have only become more and more capable of making it harder for their opponents to hit. In the 2018 season, 20 percent  of pitchers in the major leagues averaged a fastball of 95 M.P.H. or higher, whereas in 2008, only eight percent of pitchers were capable of doing so. Again raising the question of why this has occurred.
The same question applies for highschool athletes looking to become better and keeping up with the times. With the amount of players around the city, state and country becoming better and better, senior Alex Clemons was pushed to make the most out of his offseason this year. 
Clemons said that "focusing on baseball helped me tremendously. In years previous I had to cut weight for wrestling and ended up not gaining muscle and essential skills needed for baseball."
He explained the difference it made with only focusing on baseball without gaining some skills that he has in previous years from wrestling. "While wrestling is obviously good for physical training, I would not have been able to develop as much and it helped with my recruitment because I was able to play fall baseball," Clemons explained.
Clemons is only one example of many who has found success in specialization. But on the other hand, many athletes have also felt tremendous gains in athletics because of participation in multiple sports. 
Senior Ryan Mumey, who plays football and baseball, explained how football has helped him on the baseball field. "Football made me a much better competitor and teammate, but also a more well rounded athlete," he said. "Football coaches have pushed me hard in the weightroom as well as made me a better person."
This goes to show that each athlete benefits from their own training methods. "As long as you work hard for what you want, it is up to you to decide what you get out of sports," Mumey said.
About the Contributor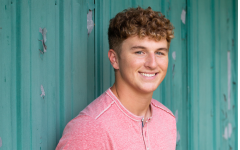 Seth Clausen, Photo Manager
Senior Seth Clausen is one of two photo managers for the Spartan Shield. In addition to his duties for the Shield, he loves being outdoors, hanging out...