Pleasant Valley jazz success: Leading tones received 5th place at state competition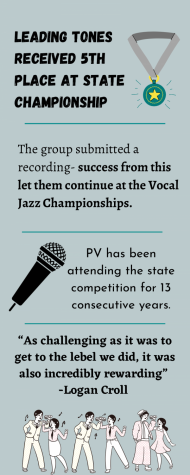 Pleasant Valley jazz group Leading Tones competed at the Iowa Vocal Jazz Championships on March 30th, 2021 and received 5th place. Many hours of hard work were put in for this group to compete at this high level. Their performance can be watched on YouTube.
PV has been attending the state competition for 13 consecutive years. The Leading Tones jazz group is directed by Meg Byrne. This group consists of many talented students throughout many grades at PV. Seniors include Rachel Lyon, Ebby Barber, Lydia Cox, Maegan Neil, Emma Engler, Gabe Johnson, Ben Curran, Logan Croll; Juniors Leah Mendelin, Parker Paulson, Erika Holmberg and Cody Connors; sophomores Ava Burmahl, Bryce Vining, Tommy Glennon and Caleb Swinney. 
The journey to State began in February when the group recorded a performance to submit to the District Choral Festival. Success at this level let the group continue up to the Iowa Vocal Jazz Championships. Here they competed against other 4a schools such as Cedar Rapids Washington, Waukee High School, Kennedy High School, Valley High School and Liberty High School.
One special component of this experience was that Leading Tones got to compete in person. "The whole experience was so much fun, and it was even more meaningful because we got to be there competing against the other schools in person. We all loved being able to see everyone else there and realized how much we took it for granted before," stated senior Rachel Lyon.
Due to the restrictions set in place by the COVID – 19 pandemic, live performances had not been as prevalent this year. Many performances for the PV Choir Department were recorded and posted to their Facebook page for people to view. This is one of the reasons that this perforce was so special. "It was an amazing way to end the year for the seniors," stated Lyon
To get to this level of performance work was put in by these talented students.  "As challenging as it was to get to the level we did, it was also incredibly rewarding. Mrs. Byrne would push us very hard during our rehearsals and we had to put in lots of extra work on our own time, but it was always so satisfying to listen to the results of our labor," explained senior Logan Croll.
The Leading Tones Jazz group had a fantastic experience at state. For seniors, this event was a fantastic memory that they can cherish forever. For the younger students, they are looking forward to competing in the state competition next year.