5 things you need at your graduation party: COVID-19 edition
Many students count down until their graduation party from the start of high school, but with the pandemic changing so much of the school year, many cannot have a normal graduation party. 
However, most students are still having a grad party to celebrate their graduation. Here are five things to have at your graduation party, especially during the pandemic.
Extra masks
It is absolutely necessary to have extra masks at your graduation party considering many people may forget them. These are also important in case someone does not think they will need one but more people show up than expected.
Hand sanitizer
Hand sanitizer is seen in almost any space you look now, and graduation parties should not be an exception to that. At these parties, so many people will be eating, getting food, handing out cards, etc. It is really easy to spread germs due to everyone touching different things so hand sanitizer is essential. 
Bottled and canned drinks
Drinks are necessary to have at grad parties because it will most likely be hot outside and people will be eating food. However, to make this safer it is a smart idea to have personal sized bottled and canned drinks instead of everyone pouring out of a bigger jug.
Lots of tables
Having a lot of space and tables has always been important for graduation parties because you never know how many people will show up. It is more important now than ever to make sure to have a lot of space to allow for social distancing and people having more space to eat.
An area for photos
This is a staple piece of a graduation party, even before the pandemic. Having a cute backdrop or area to take pictures is very popular at graduation parties. These parties are to celebrate graduating high school and are a big event for many. Also, lots of thought and money is often put into grad parties. A cute spot to take pictures is important to document the event.
About the Contributors
Paris Fietsam, Social Media Manager
Paris Fietsam is currently a senior at Pleasant Valley and is the Social Media Manager for The Spartan Shield. She is heavily involved in extracurriculars...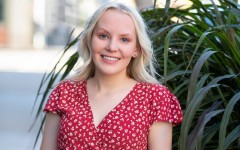 Ingrid Hofmann, Editor-in-Chief
Ingrid Hofmann is a senior at Pleasant Valley High School and serving as the Spartan Shield's Editor-in-Chief this year. She is a involved student, participating...