Tips for planning a safer graduation party
Despite the growing number of vaccinated people in our communities, COVID-19 is still quite prevalent. With graduation coming up soon, it is important to plan your grad party with caution to prevent spreading. Here are some great ways to incorporate safety and fun into your grad party this year!
Encourage the use of masks:

 
If you don't feel comfortable mandating masks, strongly encourage it on your invites! Adding a quick sentence urging your guests to bring a mask is an easy way to increase safety. 
Have lots of hand sanitizer at your event:
 Asking your guests to continually wash their hands is not always possible at a grad party, but hand sanitizer is the next best alternative. If you don't want plain hand sanitizer bottles to ruin the look of your party, decorate them! Hand sanitizer can easily become a cute centerpiece for tables or even as a gift for the guests. 
Incorporate social distancing: 
It might be difficult to constantly ask guests to stay six feet apart from each other, but with planning ahead of time you can fix that. Space out tables and seats so there is enough room between guests, decreasing the amount of germs shared. If you have any activity tables or food tables try to keep them spread out throughout your event. 
Have minimal contact based activities:
It's always fun to have activity tables that keep guests busy, but with multiple guests touching the same surfaces it poses a risk for safety. Activities like a photo booth with a fun backdrop are an easy way to limit contact but still bring fun to the party! If you do choose to have activities that require shared materials make sure to include sanitation materials and encourage guests to sanitize before and after doing the activity. 
Individually package any party favors:

 
If you plan on thanking your guests with small gifts for them to pick up as they enter or leave, make sure they enforce minimal contact. Keeping these gifts individually packaged and spread out is a must to prevent spreading of germs. You can even use cute gift bags or small boxes that match the theme to smoothly incorporate them into your event.
Limiting the number of guests is an easy way to prevent super spreading, however it can be hard to pick and choose who to invite. One solution to this is to split your invitee list into sections that are invited at different times. Specifying a time for certain guests to attend your grad party can limit capacity while still allowing you to invite all your loved ones. 
Provide proper sanitization materials:

 
The safety of you and your guests will be everyone's top priority as they attend grad parties this summer. To ensure less spreading, providing products such as sanitation wipes and sprays is a must. Use cute, themed signs to encourage your guests to sanitize before and after they sit down at a table. Not only do the signs act as a decor piece, but they also keep your guests safer!
About the Writer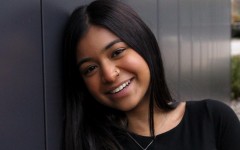 Muskan Basnet, Copy Editor
Senior Muskan Basnet is a Copy Editor for The Spartan Shield this semester. Outside of the The Shield, Muskan spends her time working at Dunn Brothers...