Expanding horizons in Arizona: Addi Steele and Macie Skahill make Ottawa University cheer team
After cheering for the PV cheer team, seniors Addi Steele and Macie Skahill want more and decided to try out for the college cheer team at Ottawa University in Arizona.
With four years of high school cheer under her belt, Steele is ready to move on to collegiate level cheer. She chose Ottawa University (OUAZ) after a recommendation from her cheer coach, Megan Ramirez, who knew that she was looking at colleges in Arizona. 
Similarly, Skahill wanted to find a college in Arizona where she could continue cheering. Her short time as a PV cheerleader did not diminish her love for the sport. "This was my first year cheering and I had no idea what I was getting myself into," she recalled.
"PV cheer sparked a new love and passion of cheer for me," Skahill said. "I had dance for 16 years and never thought this is where I would end up."
The two girls undertook five rounds of tryouts and cuts before seeing the results.
Although the tryout process was difficult and nerve-racking, they were well prepared. One month prior to the OUAZ cheer team tryouts, Steele and Skahill were two of five PV students selected for the 2021 Iowa All-State cheerleaders, where their routine consisted of intricate stunts and tumbling. 
To prepare for their All-State cheer performance at the state basketball tournament, they persisted through many long nights and extra practices. Their experience from All State to high school cheer had prepared them well for this crucial tryout. 
Steele appreciates her cheer career throughout high school which brought out her strengths. "[PV cheer] showed me how to use my voice and be a leader, and it helped me find my love for the sport," she said.
When each flew out to Arizona for the tryouts that would determine their next school year, their nerves were fueled into hard work. Skahill walked in with disbelief as the prospect of living her dream was so close.
"Throughout the three days, I had known my hard work paid off; it started to seem like a dream,"
Skahill stated.
The day after their final interview, Steele and Skahill discovered their number posted on the newly developed OUAZ cheer team list. 
The OUAZ cheer team is a nationally recognized team after placing first in an NCAA Division III category, despite it being their first national championship.  
Steele is ecstatic to join a well-respected and professional team as she furthers her education. "I met a lot of girls and guys that were so nice and talented from the team," she explained, "so I was really excited to get to know them and be a part of an amazing [and] nationally winning cheer team with them."
Skahill experienced disbelief upon seeing the highly anticipated results. "I just sat there and didn't say a word, because it did not seem real," she said. "As I went back to the school for one final team meeting it had hit me. Now I can officially say I am an OUAZ cheerleader!"
Steele and Skahill are overjoyed to join their new team as they continue their education at Ottawa University; they will blend right in and add to the talents the OUAZ cheer team holds. 
About the Writer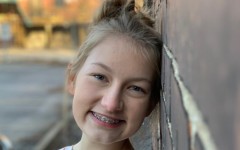 Beth Mooy, Infographic Manager
Senior Beth Mooy is the Infographic Manager for the Spartan Shield and is ready to make amazing infographics this semester. Mooy spends her time singing...