COVID-19: Emergency or way of life?
Iowa Gov. Kim Reynolds signaled for the expiration of the state's Public Health Disaster Emergency Proclamation making COVID-19 no longer an emergency in the state of Iowa.
Reynolds plans to sign the order by Feb. 15, and there will no longer be any websites that track vaccinations or infection rates.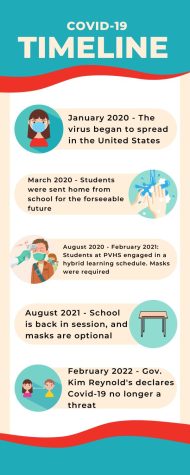 The trackers got to the point where too much funding was being put into keeping them online. Reynolds commented on this issue in a recent press release. "We cannot continue to suspend duly enacted laws and treat COVID-19 as a public health emergency indefinitely. After two years, it's no longer feasible or necessary. The flu and other infectious illnesses are part of our everyday lives, and coronavirus can be managed similarly," said Reynolds. 
Principal Darren Erickson has always adhered to the state regulations. After the bill passes, he does not think that it will have much effect on the school. People are no longer informed of COVID cases in the classroom, and masks are optional.
But what happens if there is another jump in COVID numbers? Should the school continue to adhere to state guidelines or step in to lower numbers?
"Aside from a good education, [we] are always trying to make sure that our students are safe. Honestly, I always just try and look at the data to see what steps we should take next. It will be interesting to see how the numbers rise and fall over the next couple of weeks," said Erickson. If numbers rose sharply, then he would consider different school guidelines than what is recommended by the state.
Psychology and English teacher Ann Berger also commented on Reynolds's statement. "Honestly I don't think it is going to change much. I feel like there hasn't been much COVID information going out to parents in the first place before Reynolds made this statement. However, it is interesting to look at other school districts and their policies. For example, school districts in Oakbrook, Ill. have a live count of cases in their school," she said.
When Pleasant Valley is just miles away from another state, it is worthwhile to look at how other schools in the area are taking care of COVID in their school district. At Moline High School, masks are still required.
COVID-19 has become more of a fact of life, yet that does not diminish the danger associated with the virus. According to the CDC, COVID numbers have been down since a sharp rise of cases in January, but there has been a recent jump in mortality rates since the new year.
It is important to note that schools will no longer count COVID numbers nor email parents about COVID numbers after this is passed. This may cause some problems because some parents may be uncomfortable with the uncertainty about COVID restrictions in schools.
As regulations continue to change and develop, schools will continue to adhere to the guidelines given to them at any given moment. Students should make sure that they are keeping up with their school health regulations to keep themselves safe and healthy.
There will always be some uncertainty about the virus, and some people believe that there should be stricter regulations. Others think that Reynolds's order is a step in the right direction. Only time will tell, so it is important for students to keep up to date on recent COVID changes and regulations.