Worth the fight: USWNT finally gets equal pay
On Feb. 22, the US Women's National Team's (USWNT) six year long fight for equal pay was settled as they received $24 million. In 2016, five USWNT stars, Alex Morgan, Megan Rapinoe, Hope Solo, Carli Lloyd and Becky Sauerbrunn, filed a complaint with the Equal Employment Opportunity Commission. Then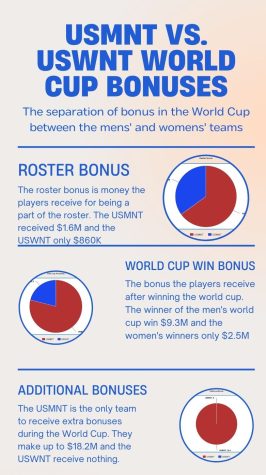 again in 2019, 28 additional players filed a complaint with the US Soccer Federation. 
The monetary compensation is a big part of this settlement. The US women's team has had considerably more athletic success than the men's team in recent years yet are still paid less. 
Senior soccer player Justin Ancelet shared his perspective."It's evident that the men vastly receive more media coverage, television licenses and sponsorships. However, the women are still putting in the same amount of work as the men but not receiving the same amount of attention and thus less money too," he said. "It's crazy how the French national team just won $38 million for winning the men's world cup, but when the US women won they only received $4 million." Once finished, the settlements will mend this unequal gap between the men's and women's wages.
Possibly an even more valuable win for the women is the promise from the U.S. Soccer Federation to provide an equal rate of pay in the future for both the women's and men's national teams. This promise is greater than just the US Women's team and will reap benefits for female athletes across the nation. 
Senior soccer player Camryn Woods explained the significance of this. "I think it will encourage young girls to continue their soccer careers beyond high school and college," she said. "And it isn't only soccer that will benefit from this. Other women's sports will see how impactful this step has been, and will inspire and encourage change for women's athletics overall." This could be a turning point for equality between men and women's wages because now that one team has been given equal wages, many will follow suit.
As female athletes continue to fight for equality, many more situations like this one will arise. This is a huge step for not only the US women's soccer team, but for female athletics as a whole.