Robotics interest explodes at PV

For the past decade, Pleasant Valley and Davenport West have been high school FIRST Tech Challenge (FTC) robotics powerhouses in the state of Iowa. Every year, under the guidance of Matt Stutenburg and Grant Housman for PV, and Jason Franzenburg for West, both programs would finish at elite levels in the tournament season.
This culminated in Davenport West's run to win the FIRST Robotics Competition World Championships in 2017. Then, a variety of factors, the most prominent being the Covid-19 pandemic, ended both of the programs' dominance.
In 2019, Davenport West ended its FTC robotics program, and in 2021, Franzenburg took a teaching position at PV. Now, with two of the best robotics coaches in Iowa, PV has slowly been rebuilding its robotics program to match the excellence that PV and Davenport West had displayed just a few years prior.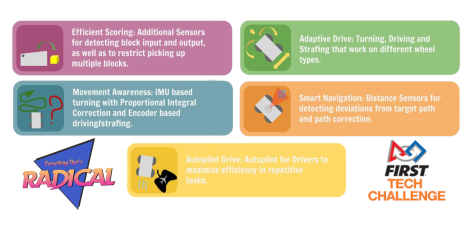 At the opening of the 2021-2022 robotics season, codenamed "Freight Frenzy," PV barely had a team: FTC team Everything That's Radical held only three out of a maximum of 15 members. Franzenburg commented on his strategy for building the program, "It sounds generic or cliche, but it's like, if you build it [the robotics team], they will come. So what we wanted to do was get a good group. . . I didn't even try to recruit last year because I wanted to figure out what we had," he said.
Everything That's Radical went through the growing pains of building a good team, and it struggled all of last season to match the local powerhouses that also consist mostly of PV students, The Winter Soldiers and Robo Minions . Both advanced to the World Championships, taking two of Iowa's three spots. But by the end of the season, Everything That's Radical could hold their own with the teams, scoring similar point totals at the state meet.
Today, there are over thirty combined students on the team's three robotics teams. Those teams are the veteran team, Everything That's Radical, the younger team, Deviation From the Norm, and PV's new venture this year into more advanced and competitive robotics, the FRC team No Limit Robotics.
Caleb Brand, a captain of Everything That's Radical said, "Last year we had one robotics team. This year we have three. Two of them are competing at the FTC level, which is like smaller robots, and one of them is competing at the FRC level, which is for big robots."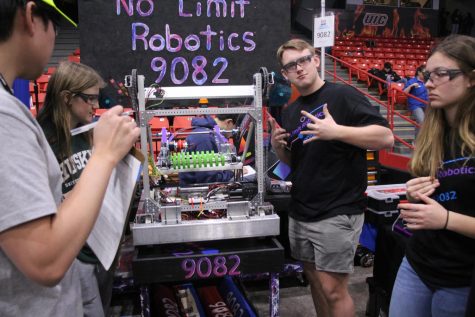 Every year, a new game is released for both FTC and FRC robotics. Teams race to design solutions to solve the problems in the game, which scores them points. Brand described the game, "It's a competition where we go up against several teams in the state to build robots from scratch, program them from scratch, all to complete a list of challenges that we've gotten." But Brand's goals are not just to complete the challenges in the game. He wants his team to compete at a high level as they plan for the League Championship in January, "Our main goals are just to improve on where we were last year. Last year we made it to state, but didn't do a whole lot while we were there. And this year, we want to win some stuff," he said.
As PV's robotics teams prepare for their upcoming meets, students interested in robotics are still trickling in, wanting to join the fun that the teams have all year-round. By the time 2023 arrives, competitive robots will be constructed, and hours of fun making those robots will have been had as well.