19 PV athletes taking their high school talents to the collegiate level
A day that represents one of the final steps in determining athletes' post-secondary futures is Nov. 9, which marks National Signing Day for almost all high-school athletes. Pleasant Valley's Class of 2023 has numerous competitive athletes planning to attend universities throughout the country. 
Below is a list of PV student athletes that participated in National Signing Day. The list includes various sports and levels of play for each athlete.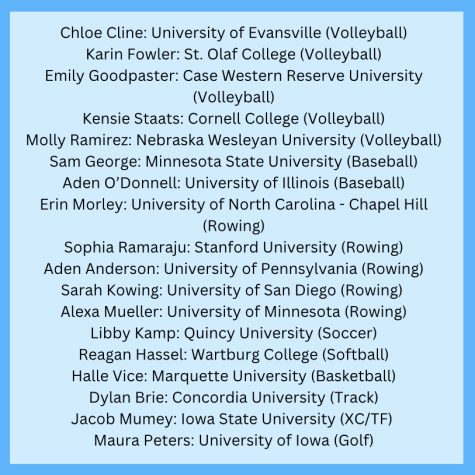 One of the first questions to come to mind after seeing the great size of athletic commitments at PV is why? Why did they choose this school over others? What factors led to their decision?
Senior Halle Vice has been committed to Marquette University in Milwaukee, Wisconsin since June of this year. Vice had scholarship offers from various competitive collegiate programs around the country. 
"I chose to go to Marquette because of the educational opportunities it provides along with the relationships I immediately formed with the girls and coaches there. It stood out to me after visiting many other universities," Vice shared.
With immense support from her many coaches, Vice couldn't be happier with her decision. Alongside Vice, many athletes at PV have been recognized throughout the last four years for their efforts and athletic talent. 
The school wishes to present and showcase this overwhelming talent, offering their own signing day on Nov. 17. On this date, all committed or signed athletes sit down together in the high school theater to celebrate all they have accomplished and will accomplish. The event gives parents, siblings, coaches and teammates the opportunity to be a part of a memorable high school experience. 
Following Vice's basketball signing, Jennifer Goetz, head girls basketball coach at PV shared some of her thoughts on Vice's recent signing. 
"I can not wait to watch Halle compete at the next level.  I believe her game has growth that will elevate her to new heights that she hasn't reached yet.  I know she will bring her work ethic and willingness to get out of her comfort zone at Marquette, which will lead her to amazing things!"
Goetz has high hopes for Vice in college basketball and adds how it will serve her academically.
"Marquette is getting a great one both on and, more importantly, off the court!" says Goetz.
In addition to Vice, nine PV athletes signed to play sports at the Division 1 level. The amount of success presented on signing day by the senior class was documented by multiple news sources. High school coaches will continue to follow their athletes as they make great strides in their collegiate athletics.