Top 5 Korean thriller dramas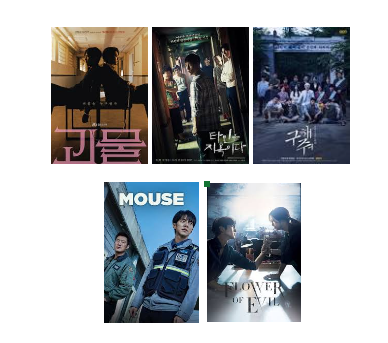 With Korean media becoming increasingly popular, many are becoming more interested in one of the most popular forms of Korean media: K-Dramas. Recently, many Korean thriller dramas have become popular in the United States, like Squid Game or All of Us Are Dead, but what about other amazing Korean thriller dramas? This list will narrow down the top 5 Korean thriller dramas that aren't Squid Game or All of Us Are Dead: 
5: Beyond Evil 
What could be more interesting than a gripping thriller where the main characters have to question their own sanity? Two policemen, Lee Dong Shik and Han Joo Won, team up to help solve serial killings that have been shaking up the area. They do everything they can to solve the killings, and in the process they start questioning everything and everyone, including themselves, because nothing is as it seems. 
4: Strangers From Hell 
A horror-thriller combination, "Strangers From Hell" is a drama that'll have everyone at the edge of their seat every episode. Yoon Jong Woo is a broke and aspiring writer who moves to Seoul because of a job offer. He ends up taking residence in a creepy, rundown apartment complex with eerie neighbors who all harbor a secret. The 10 episodes follow Jong Woo as he navigates living in this creepy and dangerous apartment complex with mysterious neighbors. The twists in the show along with the fast-paced and thrilling finale make this a must watch. 
3: Save Me (season one) 
An amazing psychological thriller, "Save Me" is the story of Im Sang Mi, who moves from Seoul to a small town with her family. After Sang Mi's twin brother commits suicide, her parents go into a depressed and highly emotional state, causing them and Sang Mi to be lured into a cult named Goseonwon. The charismatic and manipulative leader notices the state of Sang Mi's parents and convinces them that they can see their deceased son again after they become members. For three years, Sang Mi tries desperately to escape with her family, but to no avail. Until one day, when Sang Mi runs into a former classmate, Han Sang Hwan, and his two friends, and whispers to them "Save Me." This is a dark, gritty and interesting thriller with multiple twists and turns. 
2: Flower of Evil 
One of the best Korean shows of 2020, "Flower of Evil" is an amazing crime thriller with slight romance as well. Baek Hee Sung, Cha Ji Won and their daughter look like the most perfect, put-together family. But unbeknownst to Ji Won, her husband has a secret past that he doesn't want anyone to know. When Ji Won, a detective, starts investigating some unexplained serial murders, and as more information unravels, Hee Sung's secrets slowly start coming out, revealing his dark and tainted past. 
1: Mouse
"Mouse" is definitely one of the best, if not the best, Korean thriller released so far. The story follows a kind police officer named Jung Bareum who teams up with a hotheaded detective named Go Moo Chi in order to catch a violent serial killer who's been terrorizing the community. The backstory behind each of the detectives and why they're doing this was very interesting and tied very well into the main story. And, the plot twist in this show is one of the most shocking and well-executed twists, making it one of the main reasons why this is one of the best Korean thriller dramas.