REVIEW: Netflix's newest smash hit "Squid Game" really kills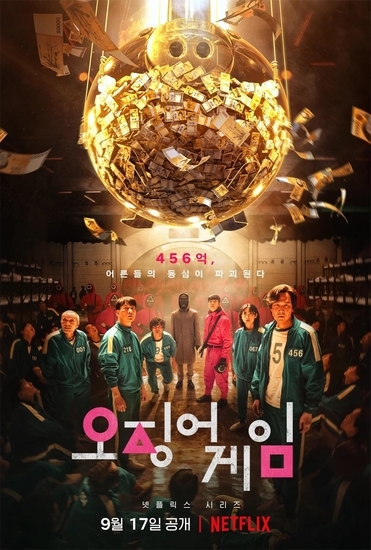 What. A. Show.
Netflix's "Squid Game" is taking the platform by storm. Since its release on Sept. 17, the show has already reached Netflix's most-watched show in 90 countries, setting it on course to become its most popular series of all time. For any show to earn this title is amazing, but for an international one, it is a first. 
The show is set in South Korea where a mysterious masked organization runs a tournament in which 456 contestants, all largely in debt due to various reasons, compete by playing childish games in order to win 45.6 billion, or roughly $38.5 million US dollars. To win this money, the players must avoid a gruesome, surprising death in each round.
What drives each character to play the game is money. The show has an interesting take on the choices people make and what drives people to make these choices: social class, harsh effects of capitalism or addiction. It also touches on the line of authority regarding who has money and, consequently, who has power.
Within these 456 contestants, the story's hero is number 456, named Seong Gi-Hun (played by Lee Jung-Jae), who is a horse-betting addict living with his mother. Audiences also meet his childhood best friend, an illegal immigrant from Pakistan, a terminally ill old man, a North Korean defector and a shameful ex-gang member.
All of these characters commonly tend to cross boundaries between acting as the hero, antihero and villain. So common in fact that within the same episode, one character can go from being admired to despised in an instant. Viewers consistently fall in and out of love with each character, root for their revenge and cry with them as the storyline builds back stories and uncovers unexpected layers.
Audiences have become invested and attached to their favorite characters, even those who only appear in one episode, because of the spectacular development of these complex characters. Viewers' eyes are frequently filled with tears as deaths start to tally and their favored contests are eliminated from the competition.
From the first episode in which the story starts off with a bang, or multiple, as almost two hundred of the contestants are gruesomely gunned down in a game of "Red Light, Green Light," the show is set up to be untamed. Later in the season, many viewers were left sobbing after a game of marbles. Who knew children's games could be turned into such heart wrenching moments?
To some, the show is reminiscent of the franchise "The Hunger Games," but the creative and modern take the writers have on the dystopian-drama genre is refreshing.
The show displays clever writing throughout and is overall extremely thrilling and exciting to watch. So much suspense is built up until it slowly eats at the audience as the rounds of games get riskier and deadlier. Not only that, but the show keeps watchers on their toes as it has new twists and turns until the very last credits start to roll.
Characterized as a drama, this show is violent. Many dreadful deaths fill each episode, but the way the show approaches death in most cases is truly poetic. Even the people who do not usually tend to notice certain camera angles or shots, the cinematography will take your breath away. The high quality and artistic images created in some shots will send chills down your spine.
Current fans of the show advise new viewers to watch it in its original Korean spoken language with the subtitles of your choice. Whatever you do, do not listen to the dubbed versions. For example, when watching the show with the English dub, the voice actors overact creating an ill experience leaving you unamused and not entertained. 
Every Korean actor cast in the show is incredibly talented and believable as the character they were chosen to portray. Their voice inflection and facial expressions lead you to eventually forget you are reading subtitles. 
A mix of a fresh take on a dystopian drama, compelling characters and brilliant writing leave the audience wanting more. As of now, the director, Hwang Dong-hyuk, has no plans of a second season, but undoubtedly Netflix will throw money his way soon in order to have another season of this phenomenon. Luckily, the ending of season one left a few loose ends and much to be discovered.
If you choose to watch this show, you will be entertained, but you might also ask yourself, if desperate enough, would I play the Squid Game?