REVIEW: "Bones and All"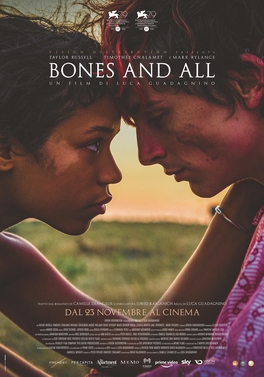 Attractive leads, romance and cannibalism.
Luca Guadagnino's "Bones and All" has it all. 
"Bones and All" (2022) is a romantic horror movie set in the 1980s that tells the story of Maren, a cannibal played by Taylor Russell, and Lee, played by Timothee Chalamet. 
Guadagnino is known for his critically-acclaimed films, including the 2017 hit "Call Me By Your Name," which also starred Chalamet. 
'Bones and All' explores love, self-discovery, and growth through the unconventional lens of a cannibalistic romance. 
The movie starts grimly. After saying goodnight to her dad, Maren sneakily heads out to attend a sleepover birthday party at a friend's house.
The first few minutes are pretty inconspicuous, with her and a friend laying on the floor talking about life. However, when Maren's friend holds out her hand, Maren gently grabs a finger and bites it. This dramatic and bloody turn, exemplified by the loud crunching noise from Maren's mouth, is when the viewers are introduced to the fact that Maren is a cannibal, or an "eater" as they say in the movie. 
The movie continues darkly, with Maren being abandoned by her father on her 18th birthday with nothing but some cash and a tape recorder with a voice note from her dad. Maren sits alone, defeated and crying, as she listens to a recording of her father telling her that he can no longer help her and cannot cope with her behavior.
Maren decides that she must leave her home and search for her mother in order to understand the reasons for her own peculiar behavior.
It's on this adventure that she meets fellow eater, Lee. She was shoplifting and he was feeding on a customer, and they immediately clicked. Lee asks Maren if she wants to go on a cross-country road trip together, and she says yes, initiating the start of their romantic relationship. 
Junior Brie Howell appreciated the development of Maren and Lee's romance throughout the film. "They're such odd people who bond over eating other people, but that's what made them perfect for each other. Maren went through so much and despite that, she was able to find true love with Lee, someone who's just like her," stated Howell. 
However, despite having a cannibal romance theme, the film felt normal. The eccentric romance was more like the casual coming-of-age love story. Yes, there were some cannibal bonding moments, but sometimes it was easy to forget that they were murderous teenagers and not just poor, lost kids who found comfort in each other. 
The beautiful and raw cinematography added to this as well. "It was immersive. They traveled through gorgeous places with the most vibrant skies, unlike the dark and gritty nature of most horror movie cinematography," Howell stated. 
The light and stunning cinematography was able to add humanity to the dark characters and story, emphasizing the beauty of young love. This contrast is what sets "Bones and All" apart from other romantic horror movies. 
Maren and Lee face countless problems in their time together, one of them being how Maren's mother, who's institutionalized, attempts to murder Maren for being an eater despite being one herself. It's tragic to see the only parent Maren has left berate her and try to kill her for something that isn't even her fault. 
The ending of "Bones and All" is both violent and tragic, leaving a lasting impact on viewers.
Maren and Lee had built a life together and were deeply in love, but their happiness is shattered when Sully, a character from the earlier in the film, reappears and destroys everything they had built. 
Lee's last line to Maren was for her to consume him "bones and all," showing their everlasting trust and love. 
Despite its dark topics and tragic storyline, "Bones and All" is a must-watch movie for anyone who enjoys stories of love, self-discovery and growth.