Review: JPEGmafia and Danny Brown go against the music industry with album "SCARING THE H*ES"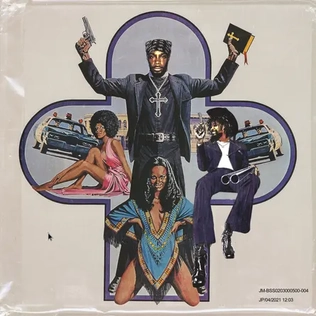 As the world entered the streaming era, a new problem emerged: bloated albums that drag on longer than they should, stuffed with mediocre tracks added only to increase streaming numbers and, consequently, profits. Somehow these "full" albums feel empty, leaving much to be desired even with hours of music. This has led the music industry to be oversaturated for years, leaving a gap for short albums that feel complete and satisfying.
Artists JPEGMafia and Danny Brown address this conversation with their first collab release, "SCARING THE H*ES" a maximalist, industrial and experimental hip-hop album that has taken the internet by storm.
Barrington Hendrick, also known as JPEGMafia or Peggy, is a rapper, singer and producer originally from the Flatbush neighborhood in Brooklyn. Moving from New York to Alabama to Louisiana, Hendrick was eighteen when, he saw the military as his only way out of the cycle of poverty that he lived in for years.
Hendrick then served eight years in the Air Force, stationed across the world, including one tour in Iraq. During this time, music was a creative outlet for him to express his disdain for the things he has experienced in his life, including capitalism and racism.
JPEGMafia then moved to Maryland and released his first mixtape, "Communist Slow Jams,"  in 2015 and only one month later, "Darkskin Manson" was released, inspired by the Freddie Gray riots during the time. Since then, Peggy went on to release multiple mixtapes and studio albums, receiving both critical acclaim and public outrage, with songs like "I Just Killed a Cop Now I'm Horny" featured on national television for its graphic message and title.
JPEGMafia is known for graphic lyrics, industrialized and maximalist production and being "chronically online," merged perfectly with Danny Brown.
Daniel Sewell, also known as Danny Brown, is a Detroit rapper with provocative lyricism and a unique voice that perfectly matches JPEGMafia's production style. Brown became a drug dealer at 18, later joining Detroit rap group Rese'vor Dogs.
Brown's second studio album "XXX" put him on the map with provocative, sexual lyrics and alternative production. It received massive critical success and is considered one of the best rap albums of all time, along with his subsequent albums like "Atrocity." Brown is one of the most unique and influential experimentalist hip-hop artists, with this album expanding his talent.
"SCARING THE H*ES" released on March 24, was completely produced by JPEGMafia with only one machine; the Roland SP-404 Sampling Workstation. With samples from all over the world and many uncleared, a protest in itself to the music industry.
In the first track "Lean Beef Patty", whose title is reference to female gym content creator of the same name, JPEGMafia immediately criticizes Elon Musk and his buyout of social media app Twitter. 
The lines "First off, f*ck Elon Musk. Eight dollars too much, b*tch, that's expensive" allude to the Twitter Blue subscription cost. Within the first lines of the song, JPEGmafia is already displaying how tapped he is into internet culture. Almost every subsequent line is filled with references to pop culture with name drops like Hulk Hogan, Papa John, Tony Khan, Freddie Gibbs, Kanye West, and even Kyle Rittenhouse.
The beat samples rapper P. Diddy and even JPEGmafia's own 2021 song "WHAT KIND OF RAPPING IS THIS?". The sampled vocals are sped up to the point where they are used almost as synth noise and is coupled with heavy 808 bass that creates JPEGmafia's classic industrial sound.
The title track "SCARING THE H*ES" is another example of JPEGmafia's revolt against the music industry; a sample of Kanye West's "Get Em High" which is almost impossible to get cleared, is used throughout the song.
The song itself is a reference to internet slang "you're scaring the h*es", meaning somebody is acting in a way that would scare women away. It is also a reference to how "weird" music like JPEGmafia and Danny Brown's would also not interest women.
Lines like "We don't wanna hear that weird sh*t no more. What the f*ck is that? Give me back my aux cord" are self aware, poking fun at how avant garde their art is. They know what they make is unconventional but they don't care in the slightest.
"Fentanyl Tester" a track that even the name is provocative and with the current times is a precis of JPEGmafia's signature flair. Using the hit 2003 song "Milkshake" by Kelis, a sample that not even Beyoncé could clear, it's full of references to current culture like rappers Chrisean Rock and Blueface's mutually abusive relationship. The mechanical beat makes the song a perfect example of what JPEGmafia is about.
The eighth track "Orange Juice Jones" displays Brown's technique in his almost childlike sing-song-like delivery throughout the track. The track even samples Michael Jackson, another artist that is almost impossible to get cleared, and was released uncleared like most songs on the album.
Danny Brown's verses, full with his usual sexual innuendos, coupled with Peggy's production lead to an amazing song that perfectly encapsulated Brown's energy.
The ninth track is the only song with a feature on the whole album, "Kingdom Hearts Key". An allusion to the popular game "Kingdom Hearts" and the main weapon of the game, the "keyblade".
The feature is Redveil, an up and coming 18 year old rapper from Maryland who has been making waves with his album 2022 "Learn 2 Swim". Redveil blends perfectly with the duo, his gravelly delivery meshes well with the production style.
Senior Jacob Cox gave his opinions on the album, "Favorite beat definitely has to be 'Kingdom Hearts Key'. The way that Peggy comes in as the beat drops is absolute class. I was super pumped to see Danny and JPEG team up." He states, "Having two people with unconventional sounds come together is a total recipe for success. Danny's voice and Peggy's production make for an unforgettable album with a very distinct sound."
The album is full of samples from every genre, "Jack Harlow Combo Meal" is another example of JPEGmafia's genius in sample choice. The classical jazz hit "I'm Old Fashioned" performed by Bill Charlap, is heavily contrasted in JPEGmafia and Danny Brown's provocative and edgy lyricism. 
As record labels contrive new musicians to create music for Tik Tok audios, resulting in songs that are only memorable for 15 seconds, artists like Danny Brown and JPEGMafia desperately need to fill the gap with carefully arranged music. 
While short, "SCARING THE H*ES" is perfectly satisfying, not leaving more to be desired