Athlete of the week: Luke Knepp
This past weekend, the Spartans traveled to Des Moines to compete in the annual Drake Relays. On Thursday, April 27th, Senior Luke Knepp placed 3rd in the Boys 4A 3200m and set a new school record of 9:10.92 minutes. Knepp broke Senior Jacob Mumey's previous school record of 9:13.85 minutes from the 2022 state track meet. 
Watching Knepp from the stands, Mumey got emotional over Knepp's outstanding performance. "Seeing him come off the track after the race of his life made me so happy…when I gave him a hug, I just started bawling," he said. "Luke has been through so much sickness and injury; to finally see all of his hard work and dedication pay off was one of my favorite moments of my track career."
This record was no small feat for Knepp. 
In Knepp's freshman debut season, he was only able to run in two track meets that season due to COVID-19.
As Mumey mentioned, Knepp has been held back by numerous injuries–a stress fracture, stress reaction and a pulled hip flexor all in his sophomore year prevented him from finishing his explosive season. His 3200m personal record (PR) in his sophomore season was 10:05 minutes. 
Still recovering from those injuries, another injury sedated his junior year season. Knepp suffered a hamstring-related injury, which slowed his 3200m time to 10:44 minutes, almost 40 seconds slower than his PR. All these setbacks depressed him from improving and setting new personal records. 
But, finally un-injured and able to run more consistently, Knepp made this season his revenge tour. "I've raced more this year than my freshman, sophomore and junior year combined," Knepp said. 
The extra running paid off. With a new 3200m PR and school record from the Drake Relays at a time of 9:10.92 minutes, Knepp shaved off almost an entire minute from his previous PR.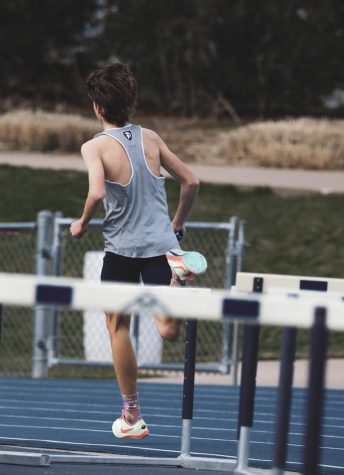 Knepp has been proving his worth as a runner since he started running and through his injuries. He boasts an impressive cross country career alongside his track career. This past cross country season, Knepp received All-State Honors after placing 13th at the state meet in Fort Dodge. He ran the 5k in exactly 16 minutes, with mile split times of 5:02, 5:05 and 5:18.
His cross country and track coach, mentor, teacher and family friend, Erik Belby, comments on Knepp's notable progression through his high school running career. "It was awesome to see him set the school record…at this time last year, [Knepp] was running the mile in the JV meet in Clinton and now he is running varsity for us," he explained "So to come from the JV lineup to being a school record holder all within a year is pretty wild. He had an All-State race in cross country, so I knew he had the potential to be a Drake qualifier and to be a fast runner. But he took that just above and beyond what I've ever seen anybody do before." 
Knepp is far from finished.
With four more meets remaining in his high school career, he still has the potential to outperform himself. Knepp has shown his swagger and swiftness as a runner this year, but he has shown his most important attribute as well: that he can persist through pain and setbacks to defy expectations, setting school records.