Athlete of the week: Jacob Mumey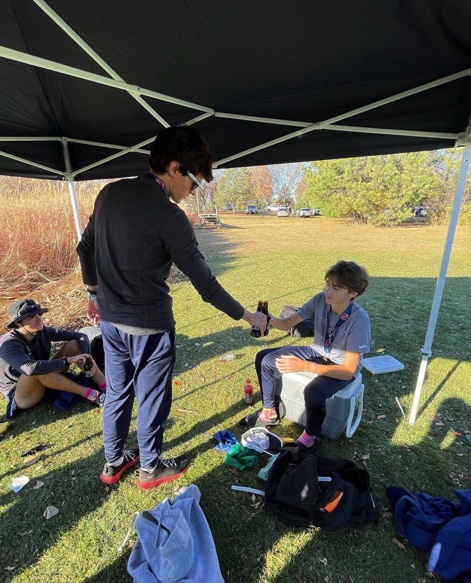 "Go the extra mile, it's never crowded"
This saying led the PV boys cross country team to excellence. The season was nothing short of greatness, credited to leadership from senior captain, Jacob Mumey. 
Mumey began his cross country career in 7th grade for the PVJH team. In his high school career, he managed to shave off nearly three minutes from freshman to senior year with his best race time going from 18 minutes to 15:14. This time is the second fastest 5k in PV history.  
Senior Luke Knepp, another team captain of the team, has formed a bond with Mumey and acknowledges his contribution to the team. "Jacob is a great leader in every way," Knepp said, "He brings an attitude of having fun when it's time to work, which is a big reason for our success," Knepp commented. 
Mumey paving the way for the team has been a reason for their success. In keeping a laid back attitude while still focusing on improvement, Mumey is not only a leader for this team but "arguably the best runner that has gone to PV," Knepp pointed out. 
Mumey continued to succeed as his final season progressed. On Oct. 13, Mumey repeated as the Mississippi Athletic Conference champion after winning it his junior year, running a 15:53 5K at Crow Creek park. He breezed through the rest of the competition, running nearly one minute faster than the second place finisher.
Just six days later, Mumey came out at the same course and ran a 15:49 5K, which put him at the fastest PV time ever, at that course. This record breaking run accelerated the team just before the state meet. After achieving his new PV record, he led his team into the state meet. In the state meet on Oct. 29, Mumey ran a 15:32 5K, earning him a fourth place finish. 
Coach Nick Sacco does not see Mumey's success and leadership as a surprise. "Our team is all about leadership," he commented. Sacco also recognizes that this team has instilled that, especially for the top athletes. Prior to Mumey, "Guys have had the same role," leading as examples for athletes to come.
This dominance does not stop there for Mumey, as he looks to continue during the track and field season this spring. Mumey is as dominant in track and field as he is in cross country. This spring, Mumey will keep his winning attitude and help his team stride into excellence. 
The future is bright for Mumey, as he plans on running at an undecided university. Regardless of where he goes, he will positively impact that program with his leadership and attitude.