The best picks of NFL Draft 2023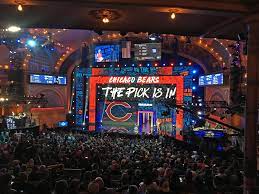 The NFL Draft is complete and the NFL teams are beginning to take shape for the 2023 season. Here's a look at some of the best picks in this year's draft that are sure to make a huge impact on their new team.
#1.    Carolina Panthers #1 overall – Bryce Young QB
The Panthers surprised everyone last year with an impressive playoff push that eventually ended in week 18. They were a very talented team that was lacking a Quarterback and they addressed this need in a big way by trading up to the #1 pick and taking the best QB and player in the 2023 NFL Draft.
#2.   Philadelphia Eagles #31 overall – Nolan Smith OLB
One of the best teams and defenses in the league last year added to their team the fastest defensive lineman in the draft. Their pass rush was already really good, and with Nolan they solidified themselves as an elite defense. 
#3.   Seattle Seahawks #20 overall – Jaxon Smith-Njigba WR
With an already solid offense backed by Geno Smith, the Seahawks added the best receiver in the entire draft. Smith's speed and skill should prove to be a draft steal at pick #20.
#4.    New England Patriots #17 overall – Christian Gonzalez CB
With a lot of offensive talent in the AFC East, the Patriots added one of the best defensive players in the draft to keep the high powered offenses to a minimum. Gonzalez is arguably the best DB this year and the Patriots were able to grab him in the middle of the first round.
#5.    Detroit Lions #45 overall – Brian Branch S
The Lions had some major needs on defense and they were able to address them in a big way with the projected first rounder and best safety in the draft falling to them in the middle of the second round. Branch comes from the always talented Alabama football program and should prove to be a solid player right away in the NFL. 
#6.    Pittsburgh Steelers #32 overall – Joey Porter Jr. CB
With the first pick of day 2, the Steelers grabbed a big and extremely talented cornerback to fill a major hole in their defense. This pick was also a fan favorite as his dad, Joey Porter, played for Pittsburgh himself. With his talent and the perfect team fit, Porter Jr. should prove to be a really good player for the Steelers. 
#7.    Philadelphia Eagles #105 overall – Kelee Ringo CB
Ringo was a top prospect for a while, but due to some disappointing games he fell to the 4th round. With his talent, along with the Eagles adding yet another Georgia defensive player to their team, Ringo is the perfect fit for the team.