Wrestling has been a staple sport in both high school and college athletics for decades, but as its notoriety has grown, so has the pressure of "making weight."
Making weight is when a wrestler either loses or gains weight to compete in a specific weight class. They do this during the weeks leading up to wrestling and throughout the season. Many do it to make a weight that none of their teammates are at or to wrestle in a class where they would be able to win more matches.
The weight classes for high school boys wrestling are 106, 113, 120, 126, 132, 138, 144, 150, 157, 165, 175, 190, 215 and 285. Many wrestlers either lose or gain unhealthy amounts of weight in order to wrestle in the class  they or their coach want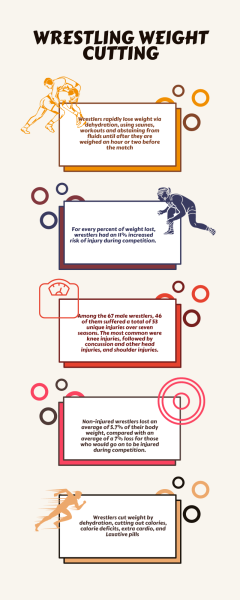 When dropping weight, many wrestlers will decrease the amount of food they eat, sometimes to unhealthy amounts. Undereating has many negative side effects such as insomnia, fatigue, increased illness, constantly feeling cold, depression and shortness of temper. 
There are many other ways to safely cut weight that do not involve using dangerous methods of overeating. "They've got to eat really healthy, like extremely healthy, and they've got to drink water," said PV wrestling coach Jake Larsen. "You cannot be afraid to work hard. You have to work really hard as far as discipline goes."
Although there are safer ways for wrestlers to cut weight, many feel pressured to lose drastic amounts of weight in a small time frame, even if it means putting their health at risk. In many cases, coaches encourage negative eating habits if it means their wrestlers will be able to make weight.  
"There's definitely pressure to cut weight, because if you don't you can't wrestle," said Nathan Musal, a senior wrestler. If you weigh too much or too little during weigh-ins, you are not allowed to wrestle. If this happens, the wrestler will likely be more inclined to take more drastic measures in order to wrestle in the next meet. 
Although commitment and discipline is important, physical health will always be more so. The key to being in peak physical shape is to eat healthy and exercise, something that can come second to making weight. To stay healthy, wrestlers need to research healthy ways to make weight, and remember that being safe is more important than winning.