The Pleasant Valley Volleyball season has come to an end with a 28-6 record. Despite falling short in the semi-finals, the team views it as another successful season.
The team had a lot of questions to answer following the graduation of 10 seniors. Uncertainty loomed as to whether a team with only one senior would be mature enough to handle the big moments down the stretch of the season. The question was answered after the Spartans battled through a tough five set victory over Debuque Senior to advance to state, and again when they were able to take number five ranked Johnston at state.
Coach Amber Hall was most impressed with how her team was able to surpass expectations."A lot of people discredited us at the beginning, but the girls even surpassed the goals we had of making it to state. We didn't just make it to state, but we were able to beat a team on that large of a stage. And then just putting up a great fight against the number one team in the state," she said.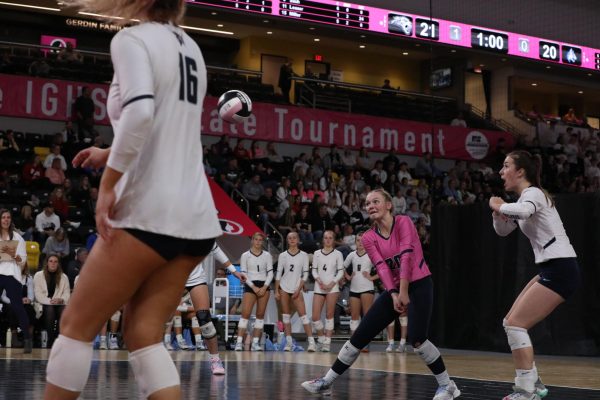 Sophomore team captain Isabelle Kremer was a big hitter for the Spartans this year, finishing fourth among all 5A volleyball players in kill efficiency, hitting .349. She also achieved first team MAC All-Conference.
Kremer's season was impressive in its own respect, but she was sure to highlight her team's chemistry as the keystone of their success. "I am very proud of this team and how far we have come. Going from not being ranked in the preseason, to being top 4 in the state is an amazing achievement. We grew so much on and off the court together throughout the season. We worked hard in practice everyday and pushed each other to be able to achieve those goals," she said.
In conference play, PV excelled once again, going 8-1 and finishing second in the conference behind 4A state champions North Scott. This ended PV's six-year conference champions streak, but Hall isn't dwelling on the disappointments of the season. Rather, she highlighted how their loss to North Scott helped prepare them for the future. "After we did lose to North Scott, we had some of the best practices that were the most focused. I really saw how everyone had that all-in mentality," she said.
The numbers and score boards always tend to dictate the outside view of how spectators view the season, but it's what people don't see which can add further insight. Junior Stella Smith noted the important role bonding played in their success. "I learned we were a strong team with so much potential… my favorite memory for bonding were the bus rides home where all we would do is talk and laugh," she said.
This team has a lot to be proud of and will return a majority of their starters next year. With how much they exceeded expectations this year, only time will tell what they will accomplish next.