Putin puts himself into US Election
On March 20, the FBI director, James B. Comey, confirmed that they were looking into Russian interference of the 2016 presidential election. The FBI was mostly checking if people associated with President Trump were in contact with Moscow officials.They also stated there was no evidence to support Trump's accusations that Barack Obama had wiretapped him.
Usually, the FBI does not confirm that there is or is not a current investigation going on. However, according to Director Comey, "In unusual circumstances when it is in the public's interest the bureau will sometimes discuss such matters." The media and most Americans are very curious as to if there was any Russian involvement in the presidential election and what some possible repercussions would be.
Comey mentioned that they had started the investigation back in July of 2016, but because of the sensitivity of the case, they had not informed Congress on its existence nor released the details until now. Many people believe if there is a possibility of coordination with Russian officials then the investigation should continue. Many Americans believe that Trump should be impeached if he is found guilty for colluding with Russians. "It is clearly an illegal act and it's not good for the country to be represented by someone with poor morals," said Austin Stickel, senior.
The previous presidential election has been one for the record books, and possibly the ugliest election in U.S. history. "It's incredible to think of how many FBI cases there has been during the previous presidential election, and that there is still more information being released about all of the candidates and the current president," said CJ Roethler, senior.
About the Writer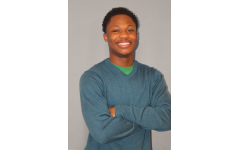 Terry Saul, Sports Editor
I'm Terry Saul, III and I like sports. I participate in football and track, next year I am attending Drake University to play football this upcoming...