Review of The Haunting of Hill House
Hang on for a minute...we're trying to find some more stories you might like.
The spooky season calls for spooky shows, and Netflix has got that covered. The new Netflix Original series The Haunting of Hill House is grasping a broad audience and intriguing those who dare to watch.
The Crain family move into the Hill House for the summer so that the the parents can flip the house in hopes of becoming rich. The parents, Olivia and Hugh, and their children, Steve, Shirley, Theodora, Nell and Luke are the main characters in this haunting journey. With the interesting incorporation of Nell and Luke having a "twin thing" and Theodora having a special sixth sense, there is always a desire to learn more. "The Haunting of Hill House deserves credit for doing what any good ghost story does: It conjures up the unthinkable and refuses to let us look away," said Jen Chaney, a writer for Vulture.
The show creatively tells a story that jumps from the past to the present. It includes flashbacks and scenes that one may have already seen with slight differences. It shows and tells the story of the family back when the Crain children were kids and strings it to what's happening in their lives now. The flashbacks allow the audience to watch both sides and figure out the mysterious events happening in the story. The director does a fantastic job showing the perspectives of each character.    
This series works on telling the story slowly and thoroughly, in order to show as much detail and depth as possible. The director slips in images one may question are there, forcing someone to rewind and double check. Since it does jump around and show the different perspectives of each character, it takes a couple episodes to figure out the approach the Netflix series was trying to accomplish. But once you figure out the astonishing way the director put the story together, you're hooked.
It's a scary story told in such a different way that one who starts watching may find it hard to stop. This binge-worthy series has appeared as the spotlight show on Netflix last week, gaining a bigger audience and craze.
Some students haven't started watching the Netflix Original Series. Isaac Ward, senior, said, "I haven't seen the show but I've heard plenty of people talk about it and it sounds like something I might watch."
About the Writer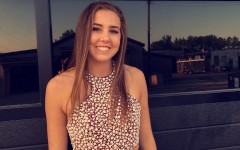 Hope Sickels, Staff Contributor
I'm Hope Sickels, a part of the 2019 class. I'm a Staff Contributor for the Spartan Shield Online this year. I've attended PV since kindergarten and...