Why other schools may have the upper (jazz) hand on PV's choir program
Hang on for a minute...we're trying to find some more stories you might like.
As the show choir season at area high schools winds down, there is a noticeable absence of one school, prompting many to ask: where is PV's show choir?
This question has been reiterated since PV left the show choir scene many years ago. While the school's choir program is accomplished, it lacks a presence in that scene.
The history of show choir at PV has been a long and complicated one. When Meg Byrne, the choral director at PV, first started her job in the choir department, she tried to start up a show choir. To her, this seemed to be a no-brainer.
It was not as successful as anyone would have liked. She summed up the basic experience in one phrase: "Show choir is go big or go home. We tried, and we went home."
Those who are a part of it know that show choir takes a while to become developed. And, if show choir wants to compete, it also wants to be successful. The first year of show choir at PV, the program was just getting off the ground. The next year showed some improvement, but it was not enough to keep the students satisfied. By the third year, it was more of the same. That third year, members of the show choir were embarrassed to be a part of it. Since it was not as good as they liked, they did not seem to take much pride in their work.
Byrne gave the student performers a choice: would you rather do jazz choir or show choir? The students chose jazz choir, and Byrne has not looked back since. The jazz program at PV finally gave the students something of which they could be proud.
The jazz choir program at PV is wildly successful. Byrne believes it would not be as successful if the department had to focus on show choir as well. Show choir would take up a lot of time, and she believes other departments would suffer too. "Our school has a lot to offer, and if we did show choir school would suffer, jazz choir would suffer, and Myatt would not be able to do four shows a year," she said.
Aside from that, Byrne cites many other reasons why PV does not participate in show choir. For example, most successful show choir schools usually have to pay large fees. If this were the case, there would be a strong likelihood PV students would not get to go on choir trips.
Byrne is proud of what the PV choral department has accomplished. Over the years, the choir program has added a lot of curricular things and has had success in many aspects; for example, PV repeatedly has numerous students selected into the Iowa All-State Chorus and has been ranked as a top 4A school for choir. "I am proud of what we do have to offer. I believe that our lack of show choir doesn't hinder us; we have enough awesome stuff," she said.
Byrne hardly gets complaints about the lack of show choir anymore. She does enjoy and appreciate a good show choir, but believes "it just wasn't a good fit here."
But you can't please all of the people all of the time. Junior Brady Sexson believes show choir would be a successful enterprise at PV now. As a participant of the fall musical, he saw firsthand how well PV students can both sing and dance. He believes PV would also be good at show choir.
As an avid lover of both singing and dancing, Sexson said show choir seems like it would be the perfect combination for him and the many others at the school. He said, "We have dance and choir at PV, but I want to do both dance and choir [simultaneously]."
He also sees the success of other Quad City schools. "A lot of other schools in the area have it and I've gotten to see it [in person] and it seems like a fun experience," he said.
Sexson also recognizes the reasoning behind the decision. "I understand the reasons, but I feel like there are ways we can work around it. I wish we could do both in a perfect world." Regardless, Sexson said he enjoys jazz choir and the experiences he has gained from it.
About the Writer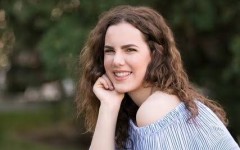 Sarah Danielson, Copy Editor
Hello! My name is Sarah Danielson, and I am so excited to be a copy editor on the Spartan Shield this year. As an avid lover of grammar, I am ready to...